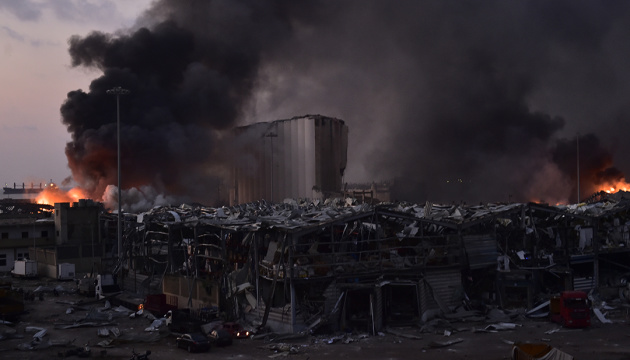 Zelensky asks Shmyhal to inspect handling of explosives in Ukraine
Ukrainian President Volodymyr Zelensky has called on Prime Minister Denys Shmyhal to inspect the handling of hazardous materials in Ukraine and take measures to prevent emergency situations.
The head of state sent a respective letter to the premier in view of explosions that rocked the Lebanese capital of Beirut on August 4, the presidential press service reported.
"I ask you to urgently ensure that an assessment is made of the handling of hazardous and fire-extinguishing substances, explosives, products, waste, and fertilizers. Due to their properties and due to certain factors and circumstances, they may pose a threat to human life and health and the environment. Based on the results of the work done, I ask you to take proper response measures," the document reads.
Zelensky also said it was important to draw up and adopt the necessary regulations that would help implement a set of urgent and effective measures to prevent man-made disasters.
The head of government must personally inform the president of the relevant results, the report said.
On August 6, Shmyhal instructed the State Emergency Service, the National Police, the Ministry of Infrastructure, the State Labor Service and the heads of the regional state administrations and Kyiv City State Administration to conduct thorough inspections of how ammonium nitrate is stored and used at various enterprises in Ukraine.
At least 157 people were killed and about 5,000 were injured in powerful explosions that rocked the Lebanese capital on the evening of August 4. In addition, rescuers are searching for more than a hundred people who went missing after the explosions.
According to tentative reports, 2,750 tonnes of ammonium nitrate that had been stored in a Beirut portside warehouse for years blew up, killing dozens of people and causing unprecedented damage to the Lebanese capital.
Foreign Minister Dmytro Kuleba said that three Ukrainian families in Beirut had informed Ukraine's Embassy in Lebanon about significant damage done to their homes and that 30 more Ukrainians had applied for small-scale financial assistance.
op