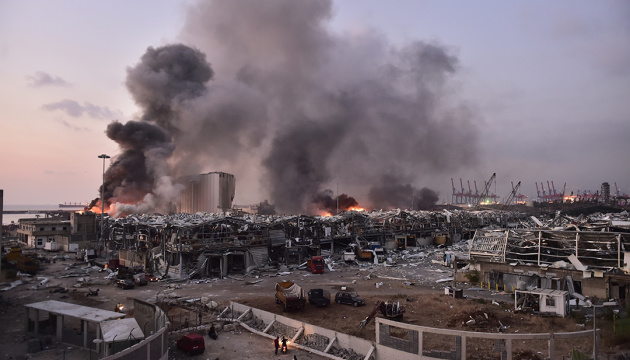 Thirty Ukrainians in Beirut applied for financial assistance - Kuleba
Three Ukrainian families in Beirut have informed Ukraine's Embassy in Lebanon about significant damage done to their homes and 30 more Ukrainian citizens have applied for financial assistance, according to Ukrainian Foreign Minister Dmytro Kuleba.
He said this at an online briefing on Thursday, August 6, according to an Ukrinform correspondent.
"Three Ukrainian families applied to Ukraine's Embassy in Lebanon with a notice about significant damage done to their homes as a result of the explosion. One Ukrainian citizen said that her apartment had been destroyed and that she had sustained minor injuries. Ukraine's Embassy in Lebanon is taking care of these citizens. We will provide them with the necessary support. In particular, there is a request from 30 people for small-scale financial assistance. We are currently working to resolve this issue," Kuleba said.
He said that as of 09:00 on August 6, there were no Ukrainian citizens killed or injured in the Beirut explosions. He also said that reports about the possible presence of Ukrainian citizens on two cargo ships that arrived from Ukraine to the port of Beirut had not yet been confirmed.
At least 135 people were killed and more than 5,000 were injured in powerful explosions that rocked the Lebanese capital on the evening of August 4. In addition, rescuers are searching for more than a hundred people who went missing after the explosions.
According to tentative reports, 2,750 tonnes of ammonium nitrate that had been stored in a Beirut portside warehouse for years blew up, killing dozens of people and causing unprecedented damage to the Lebanese capital.
op