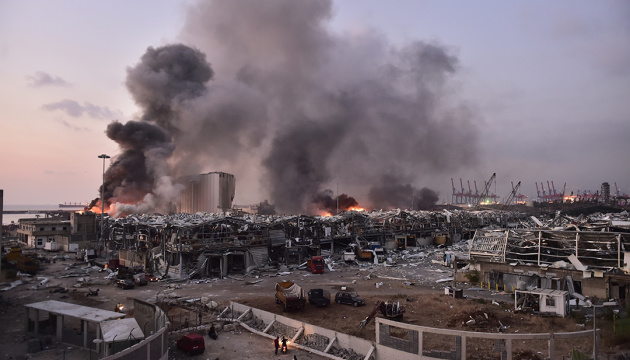 No Ukrainians among Lebanon explosion victims - ambassador
There are no Ukrainian citizens among those killed and seriously injured in massive explosions in Beirut, Ukraine's Ambassador to Lebanon Ihor Ostash has said.
"The death toll exceeded one hundred and more than 4,000 people were injured. Fortunately, there are no Ukrainians among them. There are some [Ukrainian] families who have been seriously affected. First of all, the issue concerns property, houses, apartments. There are also minor injuries, cuts, bruises, but there are as yet no [Ukrainians] who were seriously injured," Ostash said live on the Ukraine 24 television channel.
According to him, the embassy provides the necessary assistance to everybody who requests it. "We are in constant contact with the Ukrainian community in Lebanon," he said.
Ostash also noted that Ukraine has a great desire to help the Lebanese people.
"The mayors of several Ukrainian cities even called me. We're in constant contact with the [Ukrainian] government, with the President's Office, with the Ministry of Foreign Affairs. So far, the issue concerns only assistance in restoring houses or apartments," he added.
At least a hundred people were killed and more than 4,000 were injured in powerful explosions that rocked the Lebanese capital on the evening of August 4. In addition, rescuers are searching for more than a hundred people who went missing after the explosions.
According to tentative reports, 2,750 tonnes of ammonium nitrate that had been stored in a Beirut portside warehouse for years blew up, killing dozens of people and causing unprecedented damage to the Lebanese capital.
op
Photo credit: AA