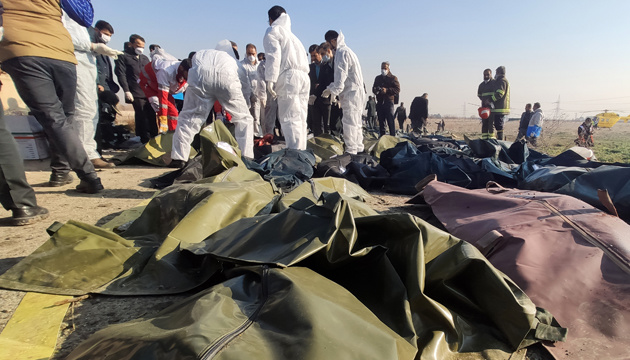 UIA plane crash: Ukraine to insist on maximum sum of compensation
The Iranian side has confirmed its readiness to fulfill international obligations in the case of the UIA plane crash. The sum of compensation to the relatives of those killed in the plane crash will be calculated after Iran provides all the information.
"Everyone is definitely interested in the fast progress [of the investigation]. Everyone is interested in the sum of compensation. I would like to emphasize once again that the sum of compensation will be calculated only after the Ukrainian side receives comprehensive information about the incident circumstances. I saw the Iranian side's readiness to complete both the technical and criminal investigations and bring perpetrators to justice," Deputy Foreign Minister of Ukraine Yevhenii Yenin said on the air of Ukraine 24 TV channel.
He reminded that the prosecutor's office of Ukraine also provided procedural guidance within the criminal proceedings over the downing of the Ukrainian plane. According to Yenin, a meeting between the leadership of the Prosecutor General's Office of Ukraine and representatives of the Iranian Prosecutor's Office had already been held.
"We expect to get specific information that could serve as evidence in criminal proceedings," the deputy minister said.
In addition, the heads of aviation services and lawyers will join the process.
Yenin added that the Ukrainian side would insist on the maximum sum of compensation to the relatives of the crash victims.
The Ukraine International Airlines (UIA) plane (flight PS752) heading from Tehran to Kyiv crashed shortly after it took off from the Imam Khomeini International Airport at about 06:00 Tehran time (04:30 Kyiv time) on January 8. There were 176 people on board – nine crew members (all Ukrainians) and 167 passengers (citizens of Ukraine, Iran, Canada, Sweden, Afghanistan, Germany, and the UK). All passengers and crew were killed in the crash.
On July 18, France's Civil Aviation Safety Investigation Authority (BEA) received Flight PS752's recorders from Iran.
On July 24, Deputy Foreign Minister of Ukraine Yevhenii Yenin informed that the transcript from Flight PS752's recorders had confirmed illegal interference with the plane.
On July 30, Iran's delegation arrived in Kyiv to participate in talks on compensation for the downing of UIA flight PS752.
On July 31, the Prosecutor General's Office of Ukraine informed that the next round of Ukraine-Iran talks on the investigation into PS752 flight crash was scheduled for October.
ol