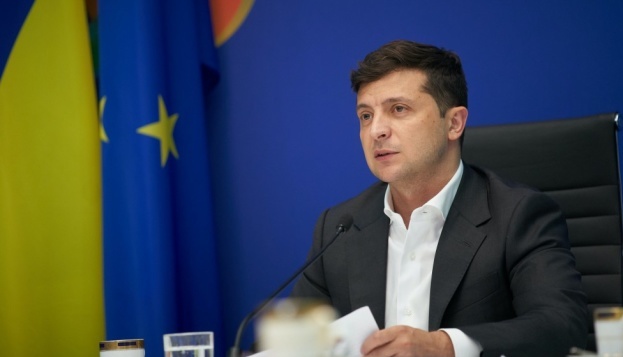 Ceasefire in non-government-controlled territory depends on Russia – Zelensky
Ukraine adheres 100% to the ceasefire in Donbas, and the observance of the truce in the non-government-controlled territory depends on Russia.
Ukrainian President Volodymyr Zelensky said this to reporters at the opening of the second stage of a new building of the Okhmatdyt Children's Hospital, an Ukrinform correspondent reports.
"Today we see that we are implementing it [the ceasefire in Donbas] by 100%. Not 99.9%, but 100%. And I am grateful to everyone who is responsible for this. As for the other side, I am sure that everything will depend on the Russian Federation and its compliance with the agreements we had. We will see if the other side really wants to end the war, what they are constantly talking about," Zelensky said.
He stressed that the ceasefire in Donbas is necessary if we want to put an end to the war and return our territories and people. "Nothing will happen without a ceasefire," the President stressed.
At the same time, Zelensky admitted that it is still difficult to control the ceasefire along the contact line, and ceasefire violations have been recorded.
The President stressed that if Russian armed formations fire or launch attacks, the Ukrainian servicemen will "respond powerfully."
He also noted that in any case, Ukraine will do everything possible to maintain the truce.
As reported, during a meeting of the Trilateral Contact Group (TCG) in Minsk on July 22, the parties agreed on a complete and comprehensive ceasefire on the contact line in Donbas from July 27.
Retaliatory fire responding to an offensive operation is only permissible if it occurs at the order made by the respective leadership of the Ukrainian Armed Forces. The TCG shall be notified of the issuance of such orders.
According to Joint Forces Commander Volodymyr Kravchenko, at the beginning of the day, July 27, the invaders broke a truce in Donbas, despite the ceasefire agreements. No casualties among Ukrainian troops were reported. The Ukrainian units did not return fire.
ish