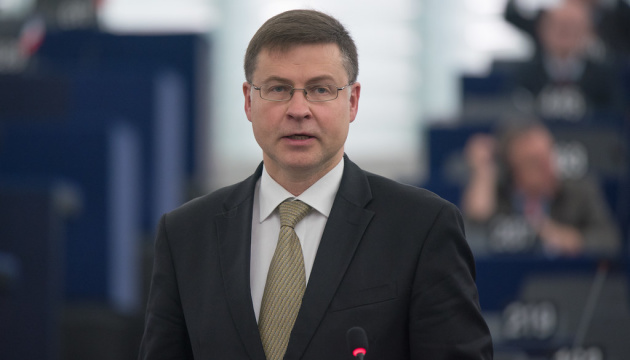 EU will continue to support Ukraine's reform agenda - Dombrovskis
The European Union has shown solidarity with Ukraine in the face of the coronavirus pandemic and will continue to support its reform efforts, Executive Vice-President of the European Commission Valdis Dombrovskis has said.
He said this in a statement on Thursday after the signing of a Memorandum of Understanding (MoU) with Ukraine on EUR 1.2 billion worth of macro-financial assistance to the country, according to an Ukrinform correspondent.
"Ukraine is high on Europe's agenda and we continue to provide political, financial and technical assistance, especially during this time of crisis, we support Ukraine's reform agenda to build a more resilient economy. The EU has shown solidarity with Ukraine also in the face of the pandemic and last month it agreed to a support package of EUR 190 million. I know this support is already reaching Ukrainian families, medics, small businesses and civil society organizations, helping them to face the crisis," Dombrovskis said.
According to him, the EU knows that Ukraine is one of the countries in the EU's neighborhood which is hit very hard by the pandemic.
"As part of our objective to help our neighborhood cope with the fallout of the pandemic, we will provide Ukraine with emergency macro-financial assistance of EUR 1.2 billion - it's far more than we provide to any other partner. This also shows our continued support to Ukraine's reform agenda. We are pleased to have concluded the negotiations on the Memorandum of Understanding for the new program. We will continue our strong engagement to support the reform orientation and strategic path that Ukraine has chosen," Dombrovskis said.
According to him, the agreed structural policy measures focus on four key areas – public finance management, governance and rule of law, improving the business climate, and state-owned enterprises and the gas market. They reinforce past achievements and send a strong commitment signal to international investors.
Dombrovskis said that the EU wanted "to ensure a clear commitment of Ukraine to central bank independence, including independent bank supervision."
"This is an essential precondition for financial stability and it's also important for building up confidence and trust and for maintaining good cooperation between Ukraine and its international partners. And I would say the signals I received during today's meeting were reassuring," he said.
He added that the sides had also discussed the upcoming EU-Ukraine Summit on October 1 in Brussels and the implementation of the Association Agreement.
op