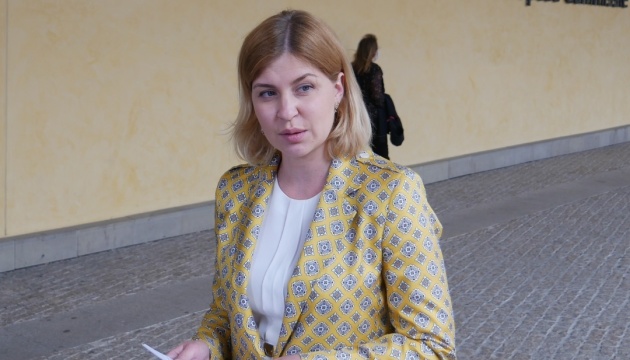 Stefanishyna calls on enhancing Ukraine's activities in EU Strategy for Carpathian Region
Deputy Prime Minister for European and Euro-Atlantic Integration Olha Stefanishyna has called on enhancing Ukraine's activities in the EU Strategy for the Carpathian Region.
She stated this during a meeting dedicated to strategic issues of state policy in the field of cross-border and regional cooperation with the European Union, the press service of the deputy prime minister reported.
"Ukraine has joined the Danube Strategy and the EU Strategy for the Carpathian Region several years ago, but I don't see enough activity in this direction. We have lost a lot of time, so I instruct all those present to immediately take all necessary steps on the part of Ukraine to ensure the proper role of Ukraine in these initiatives. Our goal is to use all opportunities, in particular for the development of cross-border cooperation," Stefanishyna said.
She stressed that the work should be resumed with Ukrainian neighbors, EU member states within intergovernmental commissions.
"It is also important to resume the work of the relevant Coordination Center for the Danube Strategy as soon as possible and approve an Action Plan," Stefanishina said.
The deputy prime minister also stressed that strengthening Ukraine's cross-border cooperation with EU countries is of great importance as a tool to intensify economic ties and improve the living standards of citizens in Ukraine's border areas. It is also an important element in the implementation of Ukraine's European integration aspirations.
"Ukraine should become a priority partner in the implementation of new cross-border cooperation programs between the countries of the European Union and the Eastern Partnership. That is why Ukraine needs to show more results in building an enhanced dialogue with the EU and the countries involved in joint programs. At the same time, it is necessary to focus on attracting new non-credit tools for financing cross-border cooperation projects," she stressed.
Among the participants of the meetings were representatives of the Secretariat of the Cabinet of Ministers of Ukraine, the Finance Ministry, the Infrastructure Ministry, the Ministry of Communities and Territories Development, the Education and Science Ministry, the Foreign Ministry, the Accounting Chamber of Ukraine, and the State Audit Office.
A reminder that the EU Council endorsed the European Union Strategy for the Danube Region (EUSDR) on June 24, 2011. The Strategy focuses on the infrastructural, environmental, socio-economic and institutional development of the region. The strategy covers nine EU countries – Germany, Austria, Slovakia, the Czech Republic, Hungary, Slovenia, Romania, Croatia, Bulgaria, as well as five non-member countries - Serbia, Bosnia and Herzegovina, Montenegro, Moldova and Ukraine.
iy