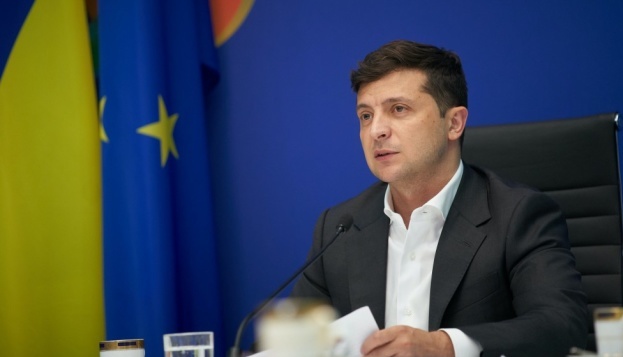 Zelensky greets Plenkovic on victory in parliamentary elections, invites him to Ukraine
Ukrainian President Volodymyr Zelensky has held a phone call with Croatian Prime Minister Andrej Plenkovic to congratulate him on the ruling party's victory in the parliamentary elections and invite him to Ukraine, the press service of the head of state has reported.
"I would like to congratulate you on a convincing victory in the parliamentary elections to the Croatian Sabor," Zelensky said, wishing Plenkovic a speedy conclusion of coalition talks and the formation of a new government.
Both sides discussed measures taken in Ukraine and Croatia to minimize the impact of the coronavirus pandemic on citizens, especially given the peak tourist season.
Zelensky expressed support for Croatian citizens affected by the spread of the coronavirus pandemic and wished a speedy recovery to all those who are ill.
Zelensky also called on Plenkovic to unite efforts for proper coordination and information about possible changes in the procedure for Ukrainian citizens crossing the border. In particular, there were recent changes that require Ukrainian tourists to undergo 14-day observation or take a PCR test two days before arriving in Croatia.
"I am grateful for the understanding of the need to review the conditions for Ukrainian tourists introduced in connection with COVID-19. Croatia has become a tourist 'magnet' for our citizens," he said.
He also congratulated Croatia on the completion of its first presidency of the Council of the European Union. In particular, he noted the holding of a video meeting of the Eastern Partnership during the Croatian presidency.
"I believe that the next EU-Ukraine summit will turn over a new leaf in our cooperation. In particular, we expect Croatia to continue to support Ukraine's European integration aspirations," Zelensky said.
Plenkovic, in turn, emphasized Croatia's strong support for Ukraine's European integration aspirations and the country progressing on the path of reforms.
Zelensky also briefed Plenkovic on the security situation in Donbas and the implementation of the agreements reached at the Normandy Four summit in Paris in December 2019.
Plenkovic also extended his condolences over the death of Ukrainian servicemen in Donbas.
Zelensky thanked the Croatian side for its traditional support of Ukraine's sovereignty and territorial integrity.
At the same time, Zelensky and Plenkovic agreed on the importance of maintaining the positive dynamics of bilateral trade and economic cooperation.
"It is very important to ensure the regular work of the joint Ukrainian-Croatian commission on economic cooperation," Zelensky said.
Both sides agreed to hold the commission's second meeting in Kyiv.
According to the presidential press service, Plenkovic said he would be glad to visit Kyiv at the invitation of the president of Ukraine and invited Zelensky to pay a visit to Croatia.
op