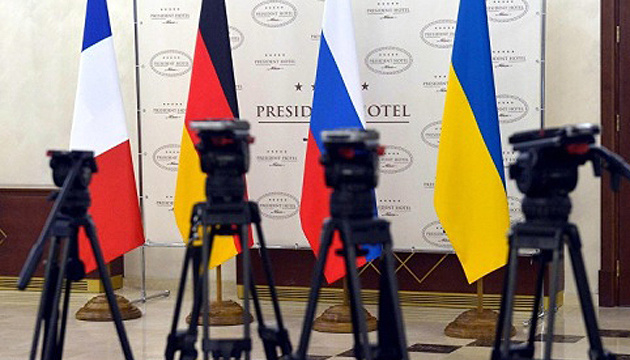 Reznikov: Only Normandy Four leaders can change Minsk agreements
Only Normandy Four leaders can change the format of the Minsk talks.
"The decision on the 'birth' of the Minsk format was made at the level of the Normandy format, so any other decisions related to Minsk can be made only within these consultations. Trilateral Contact Group is a technical and logistical center. Its task is to touch upon the emerging issues, but all decisions should and can only be made by the leaders of the Normandy format," Vice Prime Minister of Ukraine - Minister for Reintegration of the Temporarily Occupied Territories Oleksiy Reznikov said, RBC news agency reports.
According to him, the Normandy format meeting can be held "at a distance", if the leaders of the participating states agree. At the same time, it is realistic to hold consultations in September after fulfilling the obligations of the Paris summit, but only "if there is mutual will of all participants in this process."
Reznikov also noted that a number of provisions of the Minsk agreements of February 2015 did not correspond to today's realities. It is implied that the document outlines the already irrelevant dates of implementation of the agreements, the contact line and the procedure for holding elections in the occupied areas of Donbas until the restoration of Ukraine's control over its border.
"There are a lot of things that no longer work and, therefore, the parties in Minsk cannot agree a priori. This is what our European partners are talking about, starting with the phrase of German Chancellor Merkel that Minsk is not carved in stone. I did not say anything new," the Vice Prime Minister added.
As a reminder, Russia waits for the official comment of Ukrainian authorities on the statement made in Minsk about the need to revise the Minsk agreements. Foreign Minister of the Russian Federation Sergey Lavrov also stated that Kyiv had rejected the agreements, which had been reached at a meeting of political advisers in Berlin, during the meeting of Trilateral Contact Group.
ol