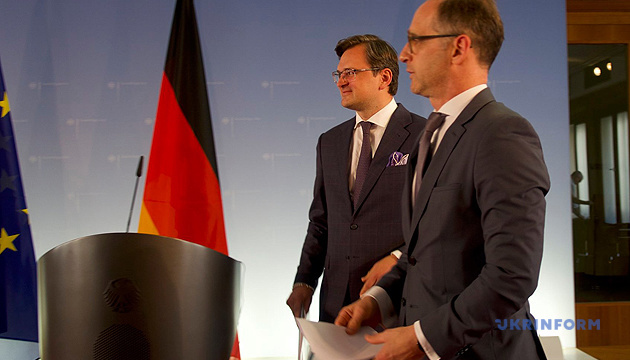 Ukraine wants to create international platform for de-occupation of Crimea
Ukraine raises the issue of Crimea at negotiations in various formats and wants to create an international platform to discuss its "inevitable de-occupation" with partners.
"As for Crimea, this is an issue that we raise at negotiations in various formats. We are primarily interested in its two elements. The first element is the protection of human rights in the occupied Crimea and the release of persons illegally detained by the Russian Federation. You know that the vast majority of them are Crimean Tatars, so this is a purposeful policy," Minister of Foreign Affairs of Ukraine Dmytro Kuleba said at a joint press conference with German Foreign Minister Heiko Maas in Berlin, an Ukrinform correspondent reports.
In this context, the Ukrainian minister noted that he had once again appealed to Maas for help to ensure that the International Committee of the Red Cross had access to Ukrainians whom Russia illegally detained in the occupied Crimea.
"We are also interested in the visit of the ICRC representatives to Ukrainians who are illegally detained in Russia," Kuleba said.
According to him, the second element is more global, namely the format in which Ukraine will discuss the situation in Crimea and its inevitable de-occupation with international partners.
Kuleba reminded that President of Ukraine Volodymyr Zelensky had recently commented on this issue, but it was also relevant for the Foreign Ministry.
"We will talk with our partners about the format in which we should establish this dialogue and what the international platform on Crimea should look like. This topic will also be the subject of our conversation with Mr. Maas in future," the diplomat said.
He assured that for him as a minister the issue of Crimea would always be among the priorities "until Crimea is de-occupied and returns to Ukraine."
As reported, the Ukrainian delegation led by Foreign Minister Dmytro Kuleba arrived in Berlin today to hold talks with German Foreign Minister Heiko Maas.
ol