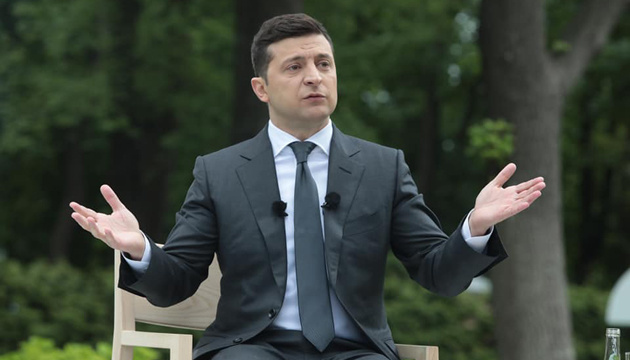 Zelensky urges U.S. not to drag Ukraine into 2020 election
Ukrainian President Volodymyr Zelensky has spoken out against Ukraine's involvement in the U.S. presidential election campaign over tapes released by MP Andriy Derkach, which allegedly contain the recordings of conversations between former Ukrainian President Petro Poroshenko and former U.S. Vice President Joe Biden.
Zelensky said this in an interview over Skype with British newspaper The Telegraph.
"Why is it necessary to drag Ukraine into this, again? Now we are enjoying bipartisan support in the United States both in Congress and the Senate. We have the support of the president. These tapes are not a priority," he said.
Zelensky emphasized the importance of the strategic partnership between Kyiv and Washington and added that "Ukraine doesn't want to influence the internal political situation or external political situation in any country, or the election process in any country."
He also denied involvement in last month's leak of his predecessor's conversations with Biden. According to Zelensky, he is only interested in how it was possible to eavesdrop the presidential administration.
"Look, I don't know anything about the details of that agreement [between Biden and Poroshenko]. And whether that agreement was reached or struck or even if this agreement existed. The only thing I am interested in is how it was possible to eavesdrop, to tape the office of the president of Ukraine," Zelensky said.
On May 19, MP Derkach released tapes that may indicate Biden's alleged influence on Poroshenko. According to Derkach, the conversations date back to 2015-2016. In particular, they are about the receipt of "$1 billion in exchange for keeping in place Burisma schemes and international corruption," the need to dismiss then-Prosecutor General Viktor Shokin "who investigated the Burisma case and got in touch with Biden."
Zelensky said at a news conference on May 20 that Prosecutor General Iryna Venediktova had registered criminal proceedings over audio materials released by Derkach.
On May 25, the State Bureau of Investigation opened proceedings in connection with possible wiretapping of Ukraine's former president, Petro Poroshenko, which could harm state interests.
Given the situation surrounding Derkach's tapes, former U.S. ambassadors to Ukraine issued a joint statement warning of the danger of Ukraine's involvement in U.S. domestic policy during the presidential election.
Last year, Ukraine was already involved in U.S. domestic policy. On September 25, the White House released a phone call between the presidents of the United States and Ukraine, which led to the U.S. House of Representatives launching the impeachment inquiry, as it appears from the text of the conversation that Donald Trump pressured Volodymyr Zelensky to persuade Ukraine to launch an investigation against Biden's son, Joe Biden.
op