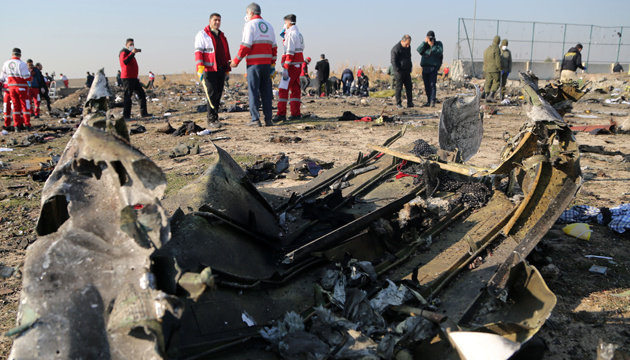 Plane crash in Iran: Ukraine ready to appeal to International Court of Justice
Ukraine is ready to appeal to international arbitration courts, in particular the International Court of Justice, if negotiations with Iran on a downed Ukrainian passenger plane do not yield results, Ukraine's Deputy Foreign Minister Yevhen Yenin has said in an interview with Radio Free Europe/Radio Liberty.
According to him, this will happen if negotiations on an objective impartial investigation into the plane crash and compensation for the families of the victims, the airline and Ukraine bring no results.
"If the talks come to a standstill, we will have to turn to international arbitration courts, including the International Court of Justice. It's not just about Ukraine, it's about a united front of the states of Canada, Britain, Sweden, Afghanistan, and Ukraine," Yenin said.
He also spoke about problems with the examination of the black box flight recorders. So far, Iran has not completed this process. However, "a country where an incident took place must ensure the immediate reading of these black boxes or transfer them to a third state," Yenin said.
According to him, Ukraine is considering conducting an examination in France.
The Ukraine International Airlines (UIA) plane (Flight PS752) heading from Tehran to Kyiv crashed shortly after taking off from the Imam Khomeini International Airport at about 06:00 Tehran time (04:30 Kyiv time) on January 8. There were 176 people on board – nine crew members (all Ukrainians) and 167 passengers (citizens of Ukraine, Iran, Canada, Sweden, Afghanistan, Germany, and the UK). They all died.
Iranian lawmaker Hassan Norouzi, a member of the parliament's legal and judicial commission, said in early April that the Iranian military did the right thing by shooting down the airliner and said that nobody had been arrested for the incident.
At the same time, Iranian officials denied the lawmaker's statement and opened a criminal case against him for "dissemination of false information" and "incitement of public consciousness."
op