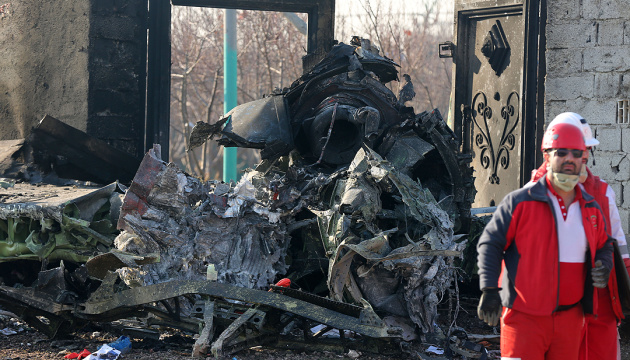 Ukraine will not allow Iran to escape responsibility for downing UIA plane - Kuleba
Ukraine will draw respective conclusions after receiving an official clarification regarding statements made by an Iranian MP, but will in no way allow Iran to escape the responsibility for the shooting down of a Ukraine International Airlines (UIA) passenger jet near Tehran.
Ukrainian Foreign Minister Dmytro Kuleba said this live on UA:Pershyi television channel, according to an Ukrinform correspondent.
"We will in no way allow Iran to escape the responsibility for the tragedy that occurred and will work with them to get the [black] boxes, to agree on the parameters of legal responsibility for what happened. And here we will act not alone but together with our partners, first and foremost, with Canada," Kuleba said.
Commenting on remarks by an Iranian deputy who called the downing of the Ukrainian plane the right thing and said that none of the perpetrators had been detained, the foreign minister recalled that Ukraine's Embassy in Tehran had sent a note to clarify Iran's official position.
Iranian lawmaker Hassan Norouzi, a member of the parliament's legal and judicial commission, said earlier that the Iranian military did the right thing by shooting down the airliner and said that nobody had been arrested for the incident.
The Ukraine International Airlines (UIA) plane (Flight PS752) heading from Tehran to Kyiv crashed shortly after taking off from the Imam Khomeini International Airport at about 06:00 Tehran time (04:30 Kyiv time) on January 8. There were 176 people on board – nine crew members (all Ukrainians) and 167 passengers (citizens of Ukraine, Iran, Canada, Sweden, Afghanistan, Germany, and the UK). They all died.
On January 11, Iran admitted that its military had accidentally shot down the Ukrainian passenger jet. Iran's Islamic Revolutionary Guard Corps (IRGC) accepted full responsibility for the downing of the Ukrainian airliner.
It emerged later that the UIA plane had been shot down by two missiles of the Tor-M1 air defense system, which Iran received from Russia.
Tehran has so far refused to hand over black boxes to Kyiv.
op