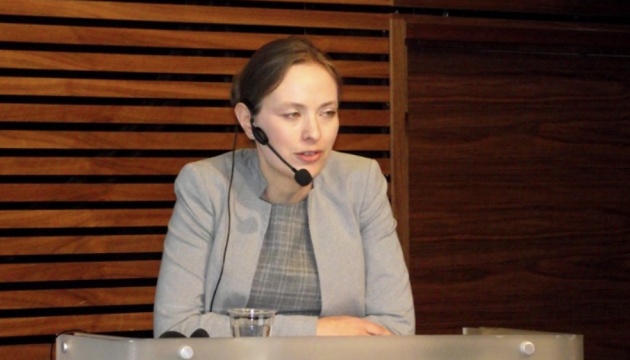 Polish expert: It's Russian military operation in Ukraine, not separatism
There is no separatism in Ukraine, but there is Moscow's military operation against Kyiv. In an effort to solve the problem in eastern Ukraine, President Volodymyr Zelensky faced a "wall" on the part of Russia, which is ready to settle the situation only on its own terms.
A Polish expert, former deputy foreign minister, former Polish Ambassador to Russia Katarzyna Pelczynska-Nalecz, said this during a discussion in Warsaw on the situation in Ukraine, according to an Ukrinform correspondent.
"Russia and Ukraine are at war. We are dealing not with separatism, but with a Russian military operation, an element of which is also an effect on the consciousness of Ukrainian society. The result is the occupation of Crimea and the de facto deprivation of Ukraine of parts of the Luhansk and Donetsk regions, which would by no means be what they are now unless Russian military forces or units, being financed, organized and operated from Russia, were deployed there," she said.
She added that Ukraine is at war with Russia and that what is happening between Kyiv and Moscow is "not a matter of dispute." "Therefore, we must appreciate where this country is now, and where it might be, given that it is in a state of war," Pelczynska-Nalecz said.
She said that Zelensky is a president who, in comparison with his predecessors, came to power in Ukraine "not to steal but to change the country for the better." However, he has "collided with the wall of reality," part of which is relations with Russia.
She noted that Zelensky came to power with a message that Russia could play the game differently, and this provoked a very heated political debate. "Everyone has seen that there are two ways to solve problems: you can build a bridge, build high-level contacts, exchange prisoners," Pelczynska-Nalecz said.
However, the expert said, Zelensky, who was criticized for trying to reach an agreement with Russia, "faced a wall" because there is no will on the Russian side to take any positive action. "Russia is now at a point where the escalation of the situation is good for it, but reaching an agreement on Russian terms is also not bad. At the same time, Ukraine and Zelensky are at another point: the president of Ukraine has invested so much in progress that the price of the absence of this progress is much higher for him, and Russians are using it," she said.
According to the expert, Russians do not want to take steps forward, but only require further concessions from Ukraine. "And since the president of Ukraine does not do this, in this connection Russia will continue to escalate the situation along the contact line, and the political consequences will be borne only by the Ukrainian side," the expert said.
Pelczynska-Nalecz said that the situation could have changed only as a result of some external factors independent of Ukraine, such as the deterioration of Russia's relations with China or the United States.
op