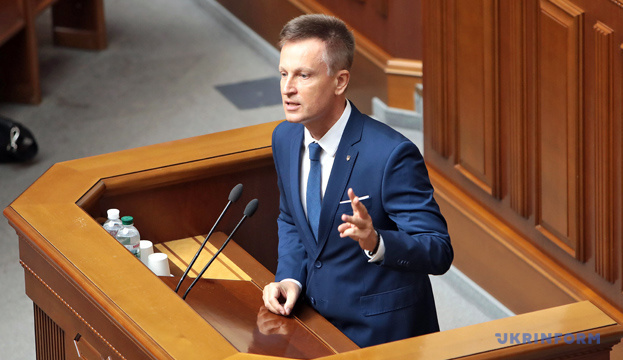 Batkivshchyna to vote for Honcharuk's, government's resignation - Nalyvaichenko
The parliamentary faction of the Batkivshchyna party plans to support the resignation of Ukrainian Prime Minister Oleksiy Honcharuk and, accordingly, the current government during the vote in the Verkhovna Rada on March 4, faction member Valentyn Nalyvaichenko has said.
"Yes, the faction will vote for his resignation. The government of laymen must go away," Nalyvaichenko told reporters on Wednesday.
At the same time, when asked if the faction plans to support new government appointments, the politician said that the new government should first present its action plan.
"The Batkivshchyna faction insists on the most important thing. First, the program of activities of the new government, with specific responsible persons and deadlines, must be presented. We have the first requirement - today the new government has to index pensions. The second requirement of the Batkivshchyna faction is to finally take the whole package of bills that we drafted and tabled in early September last year regarding the indexation of pensions, medicine, a fair price for gas, that is, to turn the country on the right course, which the new government must follow. The fact that Honcharuk's government has to go - we demanded it and did it honestly in front of all voters, in front of journalists, when we had a government report, we demanded that they resign," Nalyvaichenko said.
A snap parliament meeting convened at the request of the president is due to begin at 16:00 on Wednesday.
According to the agenda, the question of the Cabinet of Ministers of Ukraine is to be considered at the meeting. On March 3, after a meeting of the Servant of the People faction, it emerged that Prime Minister Oleksiy Honcharuk had submitted a letter of resignation to the Verkhovna Rada. According to Servant of the People MP Oleksandr Dubinsky, members of the Servant of the People faction plan to support his resignation. Incumbent Deputy Prime Minister, Minister for Communities and Territories Development Denys Shmyhal is to replace Honcharuk as Ukraine's prime minister.
Honcharuk was elected prime minister on August 29, 2019. Prior to that, he headed the Better Regulation Delivery Office (BRDO).
On October 4, 2019, the Verkhovna Rada approved the government's program of activities proposed by Honcharuk. According to the law on the Cabinet of Ministers, after approval of the program of activities, the parliament cannot consider a motion of no confidence in the government and its dismissal for 12 months. The dismissal is possible only if the prime minister himself submits a letter of resignation.
op