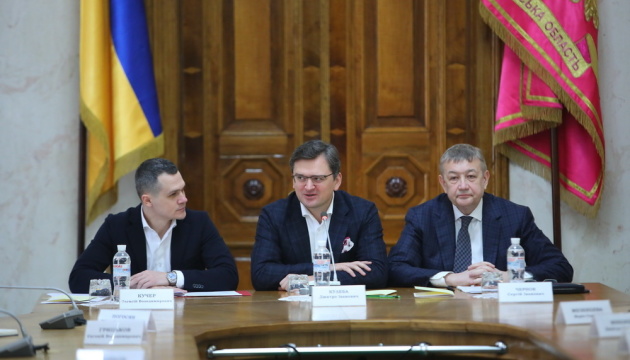 European integration offices to open in all regions of Ukraine
The European integration offices will open in all regions of Ukraine. The first office will open in Kherson in May this year, the second one - in Kharkiv in 2021.
"This year, we will set up one office and monitor its activity. This will be an office in Kherson, and it is expected to open in May. Accordingly, we will adjust its activity by the end of the year and elaborate the legislative and financial changes for the coming years. And I think that next year we will come back to Kharkiv to open the European integration office together," Vice Prime Minister for European and Euro-Atlantic Integration of Ukraine Dmytro Kuleba announced during a working visit to Kharkiv, an Ukrinform correspondent reports.
As the Vice Prime Minister noted, the offices will be set up to attract investment and promote European values ​​at the regional level and provide training for the united territorial communities' managers on the development of programs with the European Union.
"The end result of this project is to ensure Ukraine's synchronized path towards European integration so that the regions are also involved in the process apart from the capital. So that every citizen feels the specific benefits and the benefits of the European integration which help to improve the quality of life and create the proper, good business environment," Kuleba said.
Kharkiv will become the second Ukrainian city where the European integration office will open. Kuleba noted that the region had a positive trend towards exports to the European Union.
According to Chairman of the Kharkiv Regional Council Serhiy Chernov, the EU countries account for 30% of Kharkiv region's foreign trade.
ol