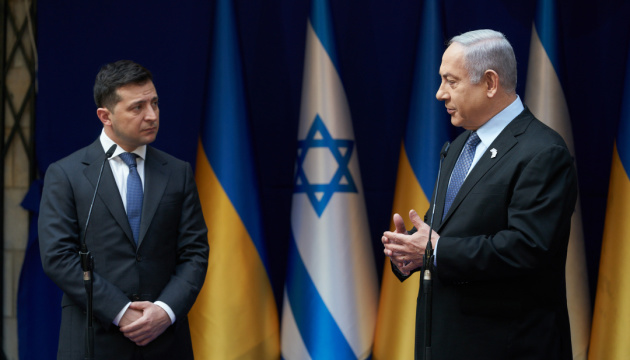 Zelensky calls on Israel to resolve situation with numerous denials of entry for Ukrainians
Ukraine and Israel should continue joint work for the final settlement of the situation with denials of entry to Israel for Ukrainians.
Ukrainian President Volodymyr Zelensky said this at a meeting with Israeli Prime Minister Benjamin Netanyahu in Jerusalem on Friday, the press service of the head of state reported.
The report notes that the president paid special attention to the situation with numerous refusals for Ukrainian citizens to enter Israel.
"The resolution of this issue should remain the focus of the authorities of both countries. The parties should continue joint work to finally resolve the situation in the near future," Zelensky said.
At the same time, the parties reaffirmed their mutual intention to develop a bilateral political dialogue.
The potential for intensifying trade, economic and investment cooperation between Ukraine and Israel was also noted.
Zelensky expressed hope that the bilateral free trade agreement, which Ukraine ratified in August 2019, would come into force as soon as possible.
Zelensky is on a working visit to Israel on January 23-24. Memorial events are taking place there as part of the World Holocaust Forum dedicated to the 75th anniversary of the liberation of the Auschwitz concentration camp.
Zelensky said early on January 23 that the Ukrainian delegation had given its invitations to the World Holocaust Forum to the people who survived the tragedy.
op