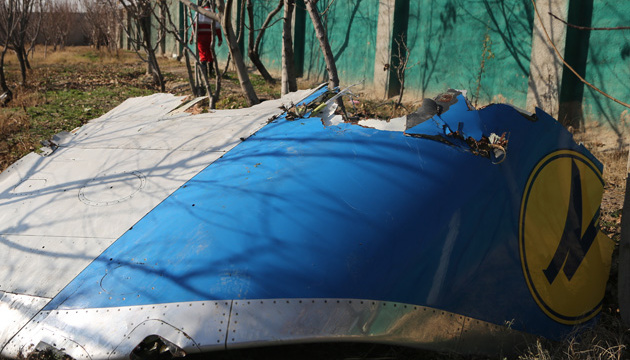 Iran to decide on transfer of black box of downed Ukrainian plane following visit to Kyiv – NSDC
In Kyiv, foreign experts familiarized themselves with the technical capabilities of retrieving information from black boxes. The final decision on the transfer to Kyiv of the flight data recorders of a downed UIA plane will be made after the Iranian delegation reports to the country's leadership on the results of their visit to Ukraine.
This was discussed at a meeting of Secretary of the National Security and Defense Council of Ukraine (NSDC) Oleksiy Danilov with the Iranian plane crash investigation commissioner, which took place on January 23, the NSDC press service reports.
"The Iranian plane crash investigation commissioner said that the final decision on further handling with the flight data recorders would be made after the Iranian delegation reported to the country's leadership on the results of the visit to Ukraine and under Article 26 of the Chicago Convention and Annex 13 to it," reads the statement.
In turn, Danilov noted Ukraine's full technical readiness to provide the necessary range of works to analyze the black boxes.
As part of the investigation into the crash of the Ukrainian Boeing 737-800 UR-PSR plane, representatives of the Iranian Civil Aviation Organization (CAO), headed by the Investigative Officer of the Islamic Republic of Iran (IRI), arrived in Kyiv on Tuesday, January 21.
Experts from Canada and France also joined the expert group.
On January 22, the experts had the opportunity to get acquainted with the technical possibilities of reading information from the flight data recorders - the so-called «black boxes» - at the Kyiv Scientific Research Institute of Forensic Expertise, the laboratory of the National Aviation University and the Research and Production Enterprise «Discovi Systemy».
As reported, a Ukraine International Airlines plane (Flight PS752) heading from Tehran to Kyiv crashed shortly after taking off from the Imam Khomeini International Airport at about 06:00 Tehran time (04:30 Kyiv time) on Wednesday, January 8. There were 176 people on board – nine crew members (all Ukrainians) and 167 passengers (citizens of Ukraine, Iran, Canada, Sweden, Afghanistan, Germany, and the UK).
On January 11, Iran admitted that its military had accidentally shot down the Ukrainian passenger jet.
Iran's Islamic Revolutionary Guard Corps (IRGC) accepted full responsibility for the downing of the Ukrainian airliner.
ish