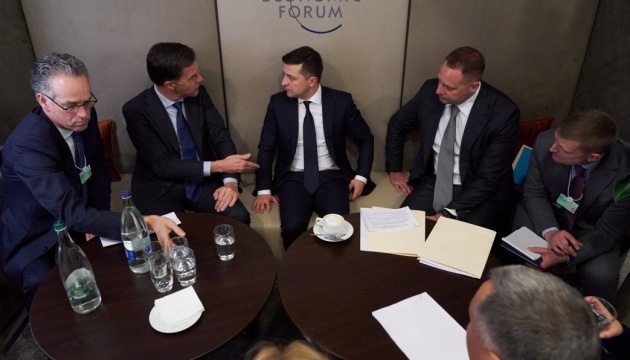 Zelensky, Rutte discuss MH17 case and Ukrainian plane crash in Iran
President of Ukraine Volodymyr Zelensky had a meeting with Prime Minister of the Netherlands Mark Rutte on the sidelines of the World Economic Forum in Davos on January 22, the president's press service has reported.
Volodymyr Zelensky thanked Mark Rutte for his condolences over the crash of the Ukrainian plane near Tehran and stressed that he expected constructive cooperation with Iran in bringing the perpetrators to justice.
"We look forward to an effective criminal investigation by the Iranian authorities as regards those responsible for shooting down the Ukrainian aircraft and bringing them to justice. We also look forward to the Netherlands' support for relevant initiatives in ICAO aimed at enhancing civil aviation security," Zelensky emphasized.
The president assured the prime minister of the Netherlands that Ukraine would continue to do its utmost to establish justice in the case of MH17 plane crash.
The parties raised the issue of promoting peace in Donbas, commended progress in de-escalation of the situation and the return of detainees.
They also discussed a number of issues of the bilateral agenda, including further development of trade and economic cooperation.
Volodymyr Zelensky invited Mark Rutte to make an official visit to Ukraine.
ish