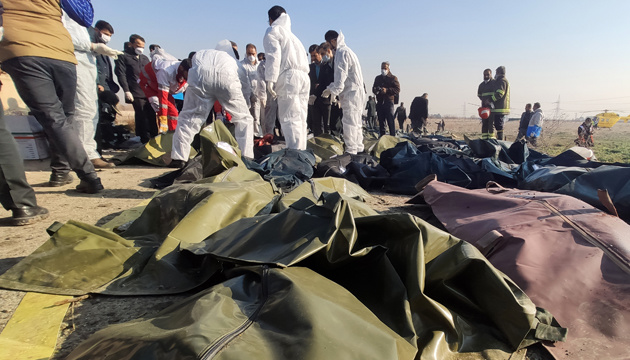 Iran to send its black box experts to Ukraine and return UIA aircraft wreckage
President of Ukraine Volodymyr Zelensky had a meeting with Special Representative of the President of the Republic of Iran Mohammad Eslami who arrived in Kyiv to discuss the details of a Ukraine International Airlines plane crash that took place near Tehran on January 8.
"The Ukrainian president and the special representative of the Iranian president discussed the issue of transferring the UIA aircraft's flight data recorders to Ukraine to decode them. He stressed that Ukraine had the necessary technical means and experienced specialists to perform this work properly," the press service of the head of state reported on Monday evening.
A group of Iranian representatives is expected to arrive and get themselves acquainted with the technical capabilities of Ukraine to decode the black boxes. The parties agreed that all aircraft wreckage should be returned to Ukraine.
They also raised the issue of compensation to the families of those killed in the plane crash and the creation of a joint investigation team.
"We will never be able to bring back parents, children and relatives to their families. The only thing we can give them is justice. And justice means truth. I promised the families and loved ones of the deceased, I promised the people of Ukraine that the truth would be established. We need to know what happened," Zelensky stressed.
Prosecutor General of Ukraine Ruslan Riaboshapka noted that cooperation of the respective authorities of the two countries should be ensured for effective investigation.
The parties expressed their condolences over the deaths of the citizens of Ukraine and Iran.
As reported, a Ukraine International Airlines plane (Flight PS752) heading from Tehran to Kyiv crashed shortly after taking off from the Imam Khomeini International Airport at about 06:00 Tehran time (04:30 Kyiv time) on Wednesday, January 8.
There were 176 people on board – nine crew members (all Ukrainians) and 167 passengers (citizens of Ukraine, Iran, Canada, Sweden, Afghanistan, Germany, and the UK).
On January 11, Iran admitted that its military had accidentally shot down a Ukrainian passenger jet.
Iran's Islamic Revolutionary Guard Corps (IRGC) accepted full responsibility for the downing of the Ukrainian airliner.
ish