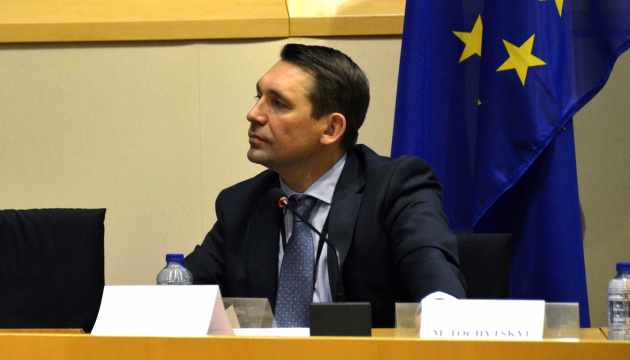 Tochytskyi thanks Europeans for support after Ukrainian plane crash in Iran
Ukraine's Ambassador to Belgium and Ukraine's Representative to the EU Mykola Tochytskyi thanked all European partners for the condolences and words of support in connection with the crash of a Ukrainian plane in Iran.
The Mission of Ukraine to the EU published a relevant statement on its Facebook page today.
"I would like to express my sincere gratitude for the condolences and words of support that I continue to receive from all our European partners. The professional work of Ukrainian experts at the site of the PS752 tragedy is highly appreciated in the EU. Ever since the disaster, Ukraine has been in constant contact with European partners... All grieving nations and millions of people around the world honor the memory of the innocent victims and demand the answers," the Ukrainian diplomat noted.
He recalled that the Ministers of Foreign Affairs of Ukraine, Canada, UK, Sweden and Afghanistan would meet in London today to coordinate efforts ensuring a proper investigation of all the circumstances of the catastrophe in Tehran.
According to him, the position of the Ukrainian side remains unchanged. "It is our urgent duty to involve all international partners, including Iran, in a transparent and impartial investigation; find out all the circumstances of the crash of our plane, the causes, as well identify those responsible for this horrific tragedy and bring them to justice; draw conclusions and improve the regimes of international aviation security for civil aviation and prevent such tragedies in the future," reads the statement.
"Human life is the highest value and our shared obligation is to protect it. All those days we are with all our hearts with those who lost their loved ones," Tochytskyi added.
As reported, a Ukraine International Airlines plane (flight PS752), en route from Tehran to Kyiv, crashed shortly after take-off from Tehran Imam Khomeini International Airport at about 06:00 Tehran time (04:30 Kyiv time) on Wednesday, January 8.
There were 176 people on board the aircraft. All of them died. The crash killed 11 Ukrainians (two passengers and all nine crew), 82 Iranians, 63 Canadians, ten Swedes, four Afghans, three Germans, and three Britons.
On January 11, Iran admitted that its military had accidentally shot down a Ukrainian passenger jet.
Iran's Islamic Revolutionary Guard Corps (IRGC) accepted full responsibility for the downing of a Ukrainian airliner.
ish