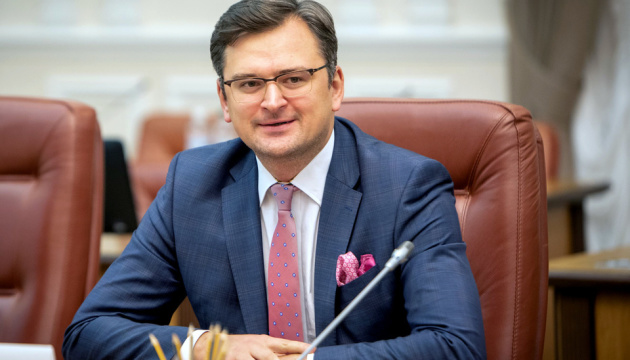 Ukraine applies for NATO EOP programme
Ukraine has applied for membership of the Enhanced Opportunities Partners (EOP) programme which is an instrument for deepening NATO's bilateral cooperation with third countries.
"Today, I have appealed officially to the North Atlantic Council with a request to start considering Ukraine's application for membership of the Enhanced Opportunities Partners," Vice Prime Minister of Ukraine for European and Euro-Atlantic Integration Dmytro Kuleba told journalists on Wednesday following his visit to Brussels, an Ukrinform correspondent reported.
When asked about the possible timeline, Kuleba stressed that the Ukrainian side cannot put pressure on NATO partners in these matters. At the same time, the Allies are aware that this issue is an absolute priority for Ukraine.
"At one of the meetings today, I stated that I am convinced that Ukraine and NATO will have many important shared stories in 2020, but the most important success story should be granting Ukraine the status of EOP member... There are some Member States that are still considering whether Ukraine should be given such status, but they are guided by political factors. In principle, Ukraine meets all the criteria necessary to participate in this program," the Ukrainian Vice Prime Minister emphasized.
He explained that participation in the Enhanced Opportunities Partners programme would allow Ukraine taking part in the NATO exercises that involve only Allies and the EOP members. Another positive point, he said, is the possibility of faster and deeper intelligence data exchange.
"I can note with a sad heart that if we were EOP members, we would faster get better intelligence data from our partners in the context of our plane crash in Iran," Kuleba said.
He said that the leadership of the Alliance and most of the Allies during the meetings at NATO Headquarters praised the thoughtful, constructive and at the same time principled position of Ukraine in the situation around the crash of the Ukrainian passenger jet in Iran.
Kuleba emphasized that participation in NATO's Enhanced Opportunities Partners programme would not impede Ukraine's implementation of the Annual National Programme (ANP).
"The ANP is the programme we received after 2008, when we were not given the Membership Action Plan, but we were given a different format. The assessment of [Ukraine's report on] the ANP implementation in 2019 is generally very positive, everyone notes the speed and depth of the reforms and the fact that we are not afraid to reform those areas that were considered impossible and unsuitable for reform, such as the state defense order. That is, EOP is not a tool of integration; it is a tool of deepening cooperation. That is why our participation in EOP will not in any way affect the implementation of the ANP," the Ukrainian official stressed.
ol