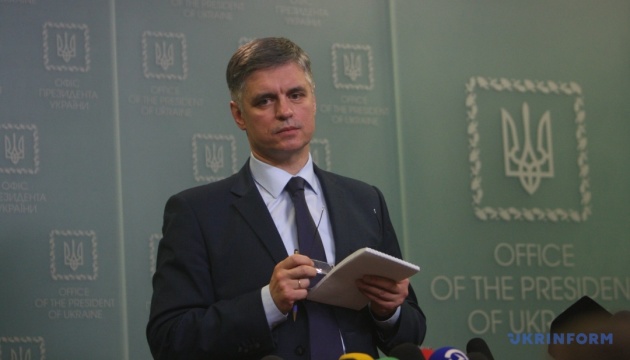 Ukraine sends note to Iran over downed UIA plane after talks between presidents
Ukraine sent an official diplomatic note to Tehran over the downed UIA passenger jet following the talks between President of Ukraine Volodymyr Zelensky and President of Iran Hassan Rouhani.
"... After conversation with the President of Iran, Ukraine officially sent a diplomatic note outlining every step the Ukrainian authorities are going to take, everything we expect from the Iranian government, as well as every international norm that was violated... I hope Iranian authorities are aware of the events they allowed to happen," Foreign Minister of Ukraine Vadym Prystaiko told BBC News Ukraine.
He stressed that the Iranian authorities assumed responsibility for the incident "at the highest level."
"They assumed full responsibility at the highest level. They promise not only us and the grieving nations but also to the entire international community that no one will escape punishment," the Ukrainian foreign minister said.
Furthermore, he recalled, half of passengers on board were Iranian citizens. "So Iran must fulfill a part of its obligations," Prystaiko noted.
As reported, Ukraine International Airlines plane (Flight PS752) heading from Tehran to Kyiv crashed shortly after taking off from the Imam Khomeini International Airport at about 06:00 Tehran time (04:30 Kyiv time) on Wednesday, January 8. There were 176 people on board - 167 passengers (including two Ukrainians) and nine crew members (all Ukrainians). There were 82 citizens of Iran, 63 citizens of Canada, ten citizens of Sweden, four citizens of Afghanistan, three citizens of Germany, and three citizens of the UK.
Previously, it was claimed that the crash had been caused by technical problems. January 11, Iran announced that it had shot down the UIA passenger plane accidentally. The plane was perceived as a hostile object as it approached Iran's sensitive military base after take-off.
Iran's Islamic Revolutionary Guard Corps (IRGC) accepted full responsibility for the downing of the Ukrainian airliner.
ol