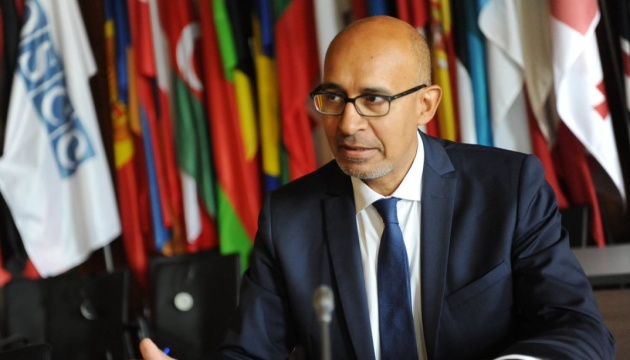 OSCE Representative on Freedom of Media welcomes release of Aseev and Halaziuk
OSCE Representative on Freedom of the Media Harlem Désir welcomes the release of Ukrainian journalists Stanislav Aseev and Oleh Halaziuk from militant captivity in occupied Donetsk.
"I welcome and am relieved that Stanislav Aseev and Oleh Halaziuk, both contributors to Radio Liberty in Ukraine, were released today from long illegal custody in Donetsk as a result of today's exchange of prisoners," Désir posted on Twitter on December 29.
Earlier, the OSCE Representative on Freedom of the Media repeatedly called for the release of Stanislav Aseev and Oleh Halaziuk illegally detained by Russian occupation troops in Donetsk.
As reported, on December 29, the detainee exchange between Ukraine and the so-called "Donetsk People's Republic" and "Luhansk People's Republic" took place at the Mayorske entry-exit checkpoint in Donetsk region.
Seventy-six people returned to Ukraine. Ukraine transferred 127 detainees, being ready to transfer 141 people, but 14 of them refused to return to the militant-controlled territory.
Stanislav Aseev is Ukrainian writer, journalist and blogger, member of PEN Ukraine. He was captured between May 10 and June 2, 2017 by militants and charged with espionage. There was almost no connection with him. Aseev was held in former museum Isolation, turned into a prison, and was later transferred to another prison. According to the released Ukrainian who was in captivity together with Aseev, the latter admitted that he had been tortured. On October 22, Russian-backed militants of the "Donetsk People's Republic" formation reported in their media that Aseev had been sentenced to 15 years in prison.
Blogger Oleh Halaziuk was held captive also. He lived in the occupied city of Torez, Donetsk region, and was a professor at the local faculty of the Kharkiv Institute of Economics of Market Relations and Management. In June 2014, his brother, Vitaliy, reported to the Torez police department about disappearance of Oleh.
Stanislav Aseev and Oleh Halaziuk were also columnists of Radio Free Europe / Radio Liberty and told about life under occupation.
ol