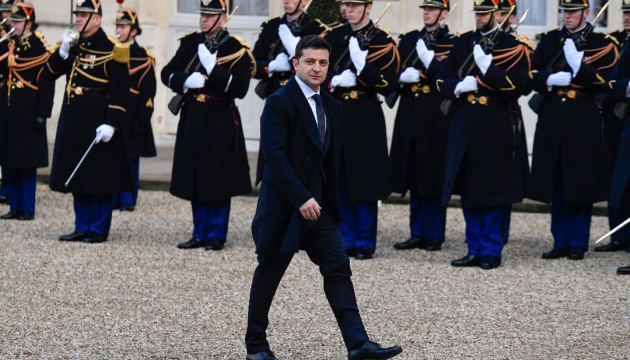 It was very hard to negotiate with Putin - Zelensky
Ukrainian President Volodymyr Zelensky has said that it was very difficult to negotiate with his Russian counterpart Vladimir Putin during their face-to-face meeting.
The head of state told this to Ukrainian journalists after the Normandy Four summit in Paris on Tuesday, December 10, according to an Ukrinform correspondent.
"The face-to-face meeting [with Putin] should have lasted 20 minutes, but it lasted about an hour. [...] Is it possible to negotiate with him? It is very difficult to negotiate. But today there were moments when we agreed on some issues," Zelensky said.
According to him, Putin delves into each issue in detail, and "we begin to settle every word."
"That is difficult. I'm just a different person. I'm a fast person. Let's reach an agreement and move on. No, there's a different, so to say, natural biomechanics here. Therefore, we will definitely see whether it is possible to reach an agreement on the whole or not," Zelensky said.
Commenting on his personal impressions of Putin, he noted that it was still "very early to say – there is little time."
The Normandy Four summit was held in Paris on December 9. The event was attended by Zelensky, Putin, French President Emmanuel Macron, and German Chancellor Angela Merkel.
Before the summit, the Ukrainian president held bilateral talks with the leaders of France and Germany.
The talks as part of the Normandy Four summit were interrupted for Zelensky's face-to-face meeting with Putin.
op