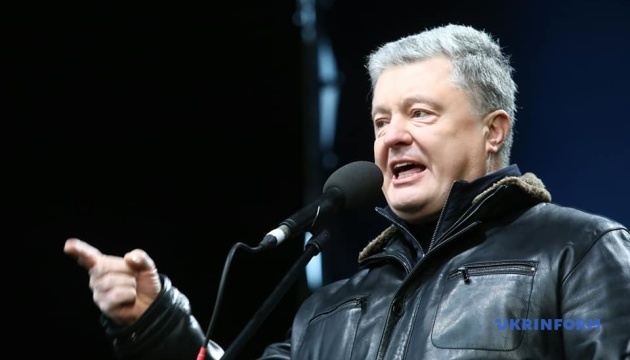 Poroshenko addresses Macron ahead of Normandy summit
Former Ukrainian President and incumbent MP Petro Poroshenko has publicly addressed French President Emmanuel Macron and called on him "not to make any concessions to Putin."
Poroshenko said this from the stage on Independence Square in Kyiv at a rally titled "Red Lines for Zelensky," according to an Ukrinform correspondent.
"This is a message to Emmanuel Macron, President of the French Republic. Friends, you cannot make any concessions to Putin until the last piece of Ukrainian land is freed. And I think this message will also be well heard in France," the politician said.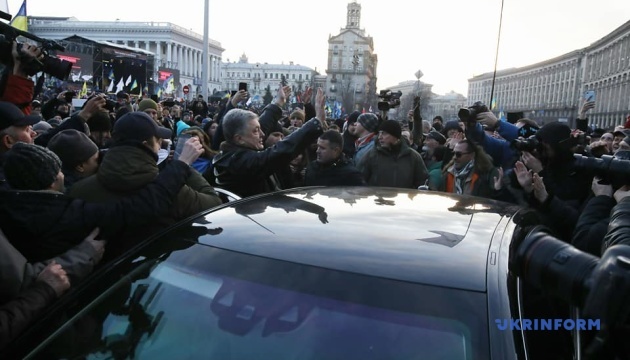 Poroshenko stressed that the rally on Independence Square in Kyiv was being held "not least for the voice from here to be heard by the Ukrainian president."
"We definitely need to continue to prove to the world that responsibility for the war rests with the Kremlin and personally with [Russian President Vladimir] Putin," Poroshenko added.
He also stressed that the rally was aimed "against the aggressor country and Putin."
According to Poroshenko, more than 20,000 Ukrainians came to Independence Square in Kyiv on December 8.
A rally is taking place on Independence Square in Kyiv on December 8 to remind the Ukrainian authorities about "red lines" ahead of a Normandy Four summit due to be held in Paris on December 9.
The rally is expected to continue near the Presidential Office on Bankova Street and will last all night. The rally participants plan to put up tents.
According to the organizers, after the news from France on December 9, they will "act in accordance with the summit decisions."
Earlier, the political parties European Solidarity, Holos and Batkivshchyna made a joint statement to prevent the violation of Ukraine's national interests during the Normandy format negotiations.
Ukrainian President Volodymyr Zelensky said that he would not betray national interests at the Normandy summit and called on Ukrainians to trust him.
op