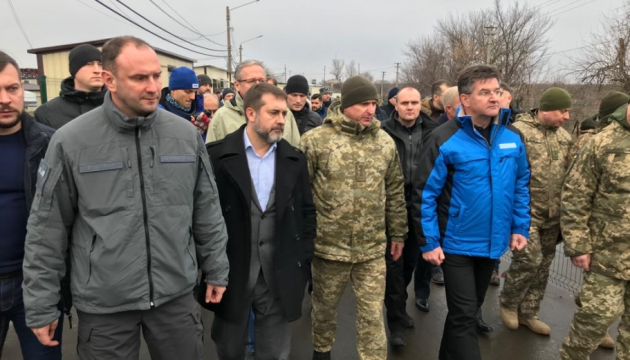 OSCE Chair Lajčák visits reopened bridge in Stanytsia Luhanska
OSCE Chairperson-in-Office and Slovak Foreign and European Affairs Minister Miroslav Lajčák, together with Ukrainian Deputy Foreign Minister Yehor Bozhok, visited the repaired and reopened Stanytsia Luhanska Bridge.
"On November 29, 2019, OSCE Chairperson-in-Office Miroslav Lajčák and Ukrainian Deputy Foreign Minister Yehor Bozhok made a joint trip to Luhansk region. The diplomats visited the Stanytsia Luhanska checkpoint and saw a recently reconstructed bridge crossing over the Siverskyi Donets River," reads the statement on the website of the Ministry of Foreign Affairs of Ukraine.
"I am very happy to see for myself that the repair works of the bridge in Stanytsia Luhanska were completed ahead of schedule and that pedestrians are now able to safely cross. It is a clear sign that change for the better is possible," the OSCE chair said.
OSCE Chair Lajčák also highlighted the role the OSCE Special Monitoring Mission to Ukraine (SMM) played in monitoring the repairs, and stressed the need for increased support to its crucial work from all OSCE participating States, according to the OSCE report.
"The OSCE Special Monitoring Mission is playing a key role in reducing tensions, preventing escalations and building confidence. The monitors act as our eyes and ears, as they make up the most relevant international presence currently on the ground. Without them here, things would be much worse – and they need our support," he noted.
Speaking about high expectations for the upcoming OSCE Ministerial Council on December 5 and 6 in Bratislava, and the leaders' Summit in the Normandy Format in Paris on December 9, as well as the ongoing important work of his Special Representative, Ambassador Martin Sajdik, Lajčák stressed the need to see more positive steps to make daily life easier for the people in the east of Ukraine, including the opening of more crossing points. "I do not have to remind anyone that this conflict has been going on for more than five years now. It is time to finally resolve it," he concluded.
ish