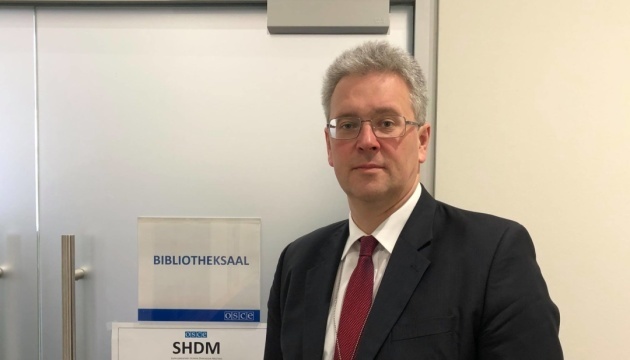 Ukraine at OSCE: Russia reacts to Revolution of Dignity with hybrid war
Ukraine condemns the fact that the Russian Federation reacted to the Revolution of Dignity with hybrid war and occupation of parts of the country.
"We regret and condemn the fact that our neighbour, the Russian Federation, reacted to these aspirations of the Ukrainian people with hybrid warfare, armed attacks and occupation of parts of Ukraine's territory. The OSCE core principles and norms of international law were flagrantly violated," Ambassador Yevhenii Tsymbaliuk, Permanent Representative of Ukraine to the International Organizations in Vienna, said at the OSCE Permanent Council meeting on November 21, 2019.
The diplomat noted that "It is in the interest of all participating States that a country violating the norms of international law is brought to justice, even if it denies any wrongdoing and involvement into the illegal actions."
Ukraine marks the Day of Dignity and Freedom every year on November 21, in accordance with a presidential decree of November 13, 2014. The Day was established in honor of the commencement on this day of two significant and fateful events in contemporary Ukrainian history - the 2004 Orange Revolution and the 2013 Revolution of Dignity.
It was on November 21, 2013, when Ukrainians started to hold the first protest rallies in response to the decision of the then government to stop the country's movement towards European integration and freeze preparations for the signing of the EU-Ukraine Association Agreement. The change in the legislatively enshrined priorities of Ukraine's foreign policy triggered the indignation of Ukrainians.
The events unfolded rapidly and dramatically - from peaceful student gatherings to mass rallies, burning car tires, Molotov cocktails and cobblestones that became weapons in the hands of protesters. The most tragic thing was that this time, unlike the events of the Orange Revolution, the defense of dignity and freedom led to 106 deaths and over 2,000 people wounded. And this was only the price of three months of Euromaidan protests.
In the spring of 2014, Russia's military aggression began followed by the occupation of Crimea and certain territories of Donetsk and Luhansk regions.
ol