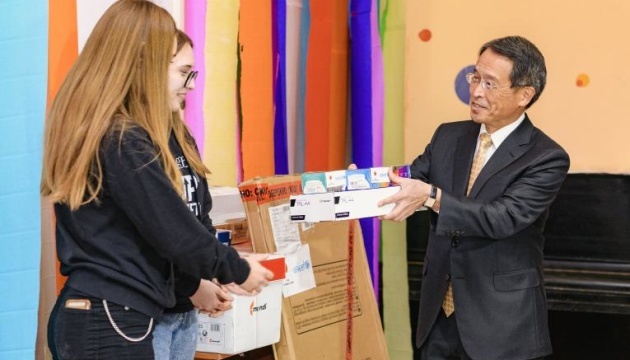 Japanese ambassador hands over equipment to youth projects in Sloviansk
A Japanese delegation led by Ambassador of Japan to Ukraine Takashi Kurai started a two-day visit to eastern Ukraine, the press service of UNICEF Ukraine has reported.
"As part of the visit, the delegation met in Sloviansk the winners of the UPSHIFT Youth Innovation Programme which is being implemented in Eastern Ukraine by UNICEF with the support of the Government of Japan. The ambassador opened the English speaking club that was set up by young UPSHIFT programme participants, and handed over sewing equipment for sewing training courses for young people with disabilities," the report reads.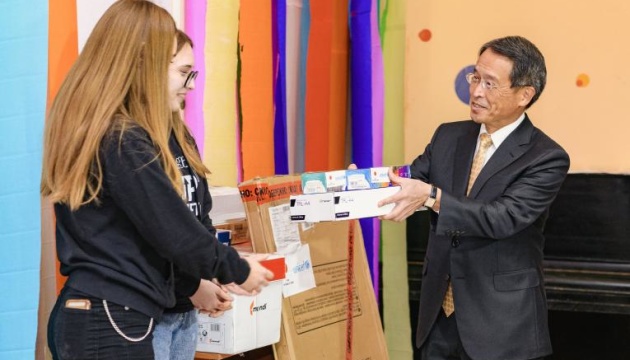 This year, the Government of Japan provided USD 360,000 for implementation of the UNICEF project "Strengthening resilience of young people and promoting social stabilization of their communities in Donetsk and Luhansk regions" in 2019-2020. The overall project goal is to mitigate the impact of the conflict on children, adolescents and young people in eastern regions by strengthening the resilience of children and communities.
One of the components of the project is the innovative UPSHIFT programme that aims to support and empower vulnerable teenagers and young people and develop their skills. The programme encourages young people to identify social issues in their communities and to suggest ways to address them. The selected teams are awarded with grants for the implementation of their ideas, support from mentors and receive training on planning, teamwork and development of entrepreneurial skills.
"Japan has been supporting Ukraine and I am happy to see here the youth involved in the projects implemented by UNICEF. I am glad to feel the ties between our beneficiaries in Ukraine and the people of Japan. The main purpose of our assistance is the development of Ukraine, as well as strengthen the ties between Japan and Ukraine. I will be glad if this project reminds you of the people of Japan. We think Ukrainian youth is very competent and hope that you will get good jobs in the future," Mr Takashi Kurai said.
Since the beginning of the 2019 academic year, four waves of calls for applications for participation in the UPSHIFT programme in Donetsk and Luhansk regions were launched with the support of the Government of Japan, totaling in almost 1,000 applications from young people from Sloviansk, Kramatorsk, Dobropillia and Sievierodonetsk. The UPSHIFT programme selected 20 teams that received funding worth about UAH 1.2 million to implement their projects.
In total, since the beginning of the conflict in Eastern Ukraine, the Government of Japan has allocated more than USD 8 million to UNICEF to support children and their families.
ish