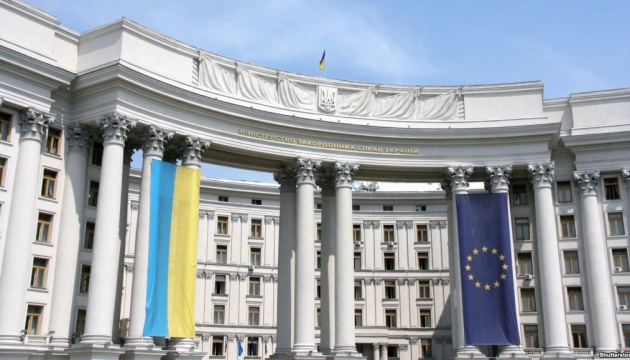 Ukraine's Foreign Ministry: Sentence to Crimean Muslims in Russia is political repression
The Ministry of Foreign Affairs of Ukraine strongly protests the illegal ruling of the Southern District Military Court in Rostov-on-Don in Russia in the case against six Crimean Muslims.
"The political motivation of the decision is indicated by the fact that the court ignored the lack of evidence base and supported the request of the prosecution, sentencing Aliyev to 19 years, Bekirov to 18 years, Kuku and Siruk to 12 years, Alimov to 8 years, Dzhepparov to 7 years of imprisonment," reads the statement of the Ministry of Foreign Affairs of Ukraine.
As noted, this shameful ruling once again confirms that Russian 'anti-terrorist legislation' is being widely used by the Russian occupying administration as a cover for its political repression against the representatives of the Crimean Tatar people.
"We call on the international community to condemn this unlawful decision and to step up political, diplomatic and sanctions pressure on the aggressor state in order to end the gross human rights abuses taking place in temporarily occupied Crimea; support the release of all illegally detained Ukrainian citizens in the Russian Federation; and to restore the territorial integrity of Ukraine within its internationally recognized borders," the Foreign Ministry states.
"The Russian Federation should comply with the resolutions handed down by the UN General Assembly on the Territorial Integrity of Ukraine of 27 March 2014; "The Human Rights Situation in the Autonomous Republic of Crimea and Sevastopol (Ukraine)" of December 19 2016, December 19 2017 and December 22, 2018; as well as the Order of the International Court of Justice on Provisional Measures in the context of the claim of Ukraine against the Russian Federation, regarding the application of the International Convention on the Elimination of All Forms of Racial Discrimination," the statement underscores.
As reported, on November 12, the Southern District Military Court in Rostov-on-Don sentenced six defendants in Yalta's Hizb ut-Tahrir case to imprisonment in a penal colony. According to the court's ruling, Muslim Aliyev was sentenced to 19 years in prison, Inver Bekirov — to 18 years, Emir-Usein Kuku — 12 years, Vadym Siruk — 12 years, Arsen Dzhepparov — 7 years, and Refat Alimov — 8 years.
ol