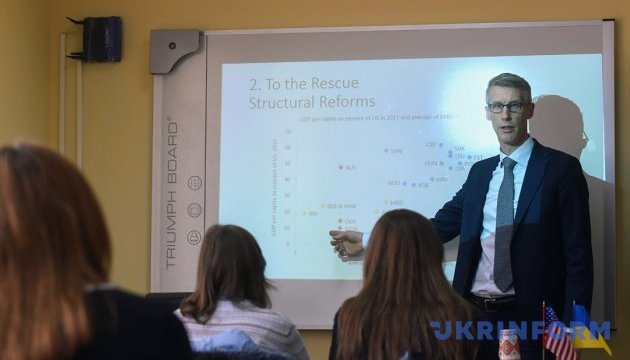 IMF Local Envoy Visits Poltava: "It has taken me 310 years to get back here"
Foreign ambassadors reportedly like to spend some of their time outside Kyiv, and the more the better.
Tired of officialdom, they strive to feel vibes of real Ukraine and to immerse into day to day activities of those who are usually hidden on the other side of figures, graphs, endless conferences and multi-paged reports.
We may also guess if actually this intention drove the International Monetary Fund Resident Representative in Ukraine, Goesta Ljungman, to venture out to Poltava. However, a glance at his packed visit testifies to a plethora of insights the envoy is interested in. Ukrinform has had a rare chance to shadow the dignitary to some of his meetings in Poltava, and has been impressed with the mixture of "act locally, think globally" demonstrated by Poltava audiences.
The lecture in the university
The open lecture in Poltava's University of Economic and Trade has hosted 100+ students (many foreigners) and academia. The opening remark - "it has taken me 310 years to get back to Poltava" - set a cordial tone for a 40 minutes tour into the history of IMF, its modus operandi, the Fund's relations with Ukraine and challenges Ukraine's economy is facing. Mr. Ljungman has referred certainly to his Swedish nationality and ensuing association. The lecture has been followed by an intensive Q&A session where questions ranged from opening the domestic land market to non-residents to IMF-attached conditionalities and how the level of their implementation is gauged. Either the lecture has been very interesting (at it indeed has been as such), or Poltava students are well-behaved but their eyes were mostly focused on the speaker and not on their gadgets which is a rare phenomenon nowadays.
An exposure to "money follow a patient"
While family doctors (general practitioners) and associated reform of the primary care are making inroads into Ukrainians' societal fabric, changes at the secondary level - in-patient hospitals and specialized treatment - are long overdue. And here Poltava takes a lead, being the only oblast in Ukraine performing a pilot project in budgeting and funding the second tier of health care. While hospitals in the rest of Ukraine are still being financed depending on how many days a patient spends in a facility (koikoden, a Soviet Semashko legacy), Poltava's health care establishments are getting their funds from the National Health Care Service on a service-oriented basis, depending on a number of quality of interventions they perform and on results of their activities. This is a tectonic change in the way hospitals operate and the way chief doctors map out the future for the wards they lead. Medical practitioners start thinking as economists measuring the rate of return on budget funds and trying to mitigate or eliminate losses incurred from an inefficient use of taxpayers' resources. Still, IMF res rep has been utterly surprised by a sheer number of health care facilities in Poltava region projecting that their number may equal or even surpass that in a whole of Sweden.
Heating tariffs on an eve of a heating season
Meeting local heating utility - Poltavateploenergo - has been an eye-opening for both sides. For Poltava hosts, it has been educative to get first-hand information why there is so strong correlation between macroeconomic stability and market-based energy tariffs, including heating ones. For an IMF envoy, it has been equally insightful to expand his knowledge about intricacies of tariff revision, the curse of chronic underinvestment, the blind alley of enforced collection of overdue utility bills (disregarded mostly by relatively affluent households) and the reasons why residents are often unhappy with the installation of meters. One of the most surprising features of three hours long conversation has been the revelation that some of productive assets employed by the utility are as aged as the enterprise is, and that is 50 years old. Fully depreciated and written off by all accounting standards, these pumps continue pumping and these boilers continue heating, with all ensuing KPIs and losses.
12,000 jobs and a billion in taxes
Poltava Association of Business takes a credit for 12,000 jobs created by its founding employers and for a billion of UAH in taxes paid. With such credentials, local businesses deserve to know how their taxes are spent, if they are spent wisely and if the state and local government machines operate transparently and humbly. The meeting with the representative of the International Monetary Fund in Ukraine has been uplifting and remarkable in a sense that none of participants has focused on problems plaguing his or her company. The exchange of views rather illuminated issues vital for the development of Poltava in particular and national economy at large. State Tax Service - is this a service-oriented or a fiscal-enforcement agency? Labor migration - could employers only on their own retain workers from looking for a job elsewhere outside Ukraine? T-bonds - do they crowd out much-needed investment into the real sector? Could monopolies eventually be broken down in Ukraine? Simplified taxation - will the cash registers law reign in the erosion of legal fabric and budget revenues by misuse of tax optimization? Inclusive growth - will and when the tide will lift all the boats?
Kotlyarevsky, the battle of Poltava, halushky and gas rings The association row of Poltava's attributes firmly encapsulates extractive industry, with gas rings popping up between the soya and sunflower fields. In his visit to Poltavagazvydobuvannya, Goesta Ljungman toured the new gas ring expected to start exploration shortly. This is a brand new multi-million dollars equipment the decision on which was made two years ago. This is a span which such decisions take time to materialize. "This new ring compared to old-timers is like Soviet Zhyguli versus spacecraft," noted one of the engineers.
The same is true about reforms and changes in economy - it takes years for them to materialize. What is important is not hesitate to start.
Stanislav Holubenko, special for Ukrinform