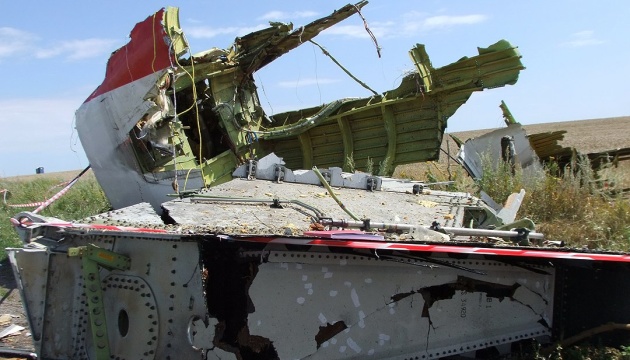 Relatives of MH17 victims trust results of international investigation – Ukraine's ambassador
Families of victims of the MH17 crash trust the results of an official investigation conducted by the Joint Investigation Team (JIT) into the downing of Malaysia Airlines flight.
Ukrainian Ambassador to the Netherlands Vsevolod Chentsov said in an interview with Ukrinform.
"Relatives of victims fully trust the results of the international investigation. People are able to see this situation in a broader context, namely, as an element of the great hybrid war being waged by Russia against Ukraine and our European partners," he said.
Today at 18:00 local time, another Russian propaganda film "Call for Justice" about the MH17 tragedy will be shown in the Netherlands. The film's authors are trying to question the results of the official investigation carried out by the Joint Investigation Team.
"It's been more than five years since the downing of the plane. Many versions, more or less exotic, have been put forward. And the more movies, alternative versions appear, the more these people who make such films and stories discredit themselves. In the Netherlands, people are well aware of the cost of such 'research' and sponsors of such research," said Chentsov.
He also noted that a large-scale study on the nature of Russian propaganda was carried out by the University of Amsterdam at the request of the Ministry of the Interior of the Netherlands and the results were recently released.
As Ukrinform reported, the authors of the movie - Russian journalist Yana Yerlashova and Dutch blogger Max van der Werff - position themselves as independent investigative journalists. They raised money for their 28-minute movie on Kickstarter (a global crowdfunding platform), but at the time of the start of the fundraising campaign, Yerlashova was still working for RT (Russia Today). She tried to prove impossible - as if the Su-25, actually a flying tank, miraculously managed to bring down the MH17.
Blogger Max van der Werff claims he doesn't admit the results of the investigations team. In his blog, he tells about possible reasons for the crash of the MH17 flight.
Malaysia Airlines flight MH17, which was en route from Amsterdam to Kuala Lumpur, was shot down over Donbas in July 2014. There were 283 passengers and 15 crewmembers on board the plane. All of them died.
In September 2016, the Joint Investigation Team said it had been established on the basis of irrefutable evidence that the plane had been shot down by a 9M38 Buk missile launched from the territory controlled by pro-Russian militants in the eastern part of Ukraine. In addition, the JIT said on May 24 that the Buk missile system from which the aircraft was downed belongs to the 53rd Anti-Aircraft Missile Brigade of the Russian Armed Forces stationed in Kursk.
In May 2018, the Netherlands and Australia officially stated that they hold the Russian state legally responsible for the downing of MH17.
iy