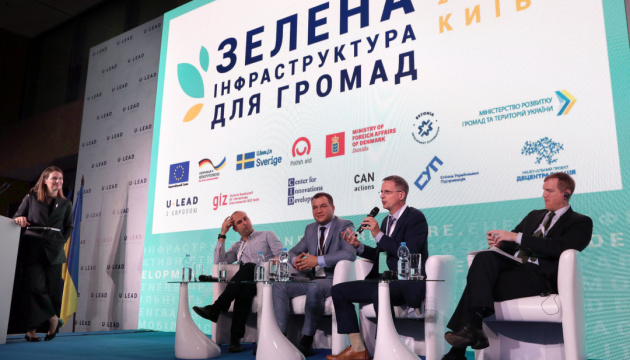 Ukraine's competitiveness depends on success of local communities - Zhyvytskyi
The competitiveness of Ukraine depends on the success of local communities and their ability to provide a comfortable standard of living for people.
Ukrainian First Deputy Minister for Development of Communities and Territories Dmytro Zhyvytskyi stated this at the conference "Green Infrastructure for Communities" in Kyiv, an Ukrinform correspondent reported.
"Local communities' development is the first and key task in Ukraine. Ukraine's competitiveness will depend on the success of local communities, their competitiveness in the global world, their level of development, comfortable life and high standards of living they can provide to common Ukrainian families," he said.
Zhyvytskyi added that decentralization reform and other reforms taking place in Ukraine are aimed at changing the lives of common Ukrainians, as well as approaches, communication and cooperation between business, government and the active public.
The conference is organized by the U-LEAD Program for Ukraine on Local Empowerment, Accountability and Development co-financed by the European Union and its Member States Denmark, Estonia, Germany, Poland and Sweden. The program cooperates with the Ministry of Communities and Territories so that to create a multi-level governance system that will be transparent, accountable and responsive to the needs of citizens.