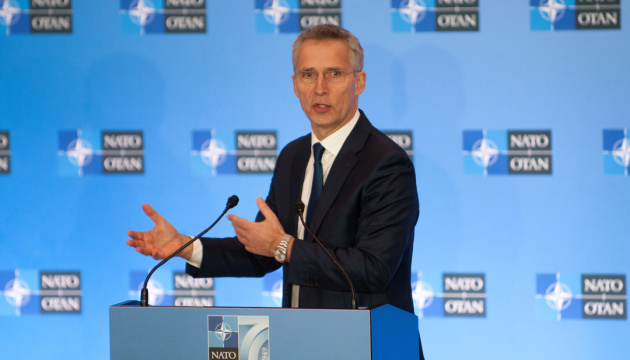 Stoltenberg calls on NATO to provide more support to Ukraine
Support for Ukraine in its fight against Russian aggression is important to all NATO allies, because in this case it is not only about ensuring Ukraine's security but also about preserving a rules-based order, NATO Secretary General Jens Stoltenberg has said.
He said this at a plenary session of the NATO Parliamentary Assembly in London on October 14, while answering questions from members of the Ukrainian delegation invited to the event.
"In a few weeks, the whole North Atlantic Council will go to Ukraine, visit Ukraine, and express our strong political support, and I urge also NATO Allies to provide even more practical support to Ukraine. They need our support. This is about supporting Ukraine, but it is also about upholding and supporting a rules-based order, which is of great importance for all of us," Stoltenberg said.
He recalled that NATO stands in strong solidarity with Ukraine and "it's absolutely not acceptable what Russia has done, illegally annexing, taking a part of another country, illegally annexing Crimea and continuing to destabilize eastern Ukraine."
"And therefore we are stepping up our support, our cooperation with Georgia. After the incidents and the capture of the Ukrainian vessels in the Strait of Azov, we decide also to do more in the maritime domain, to work with the naval academy in Odesa. [...] We are supporting Ukraine's ambitions for further Euro-Atlantic integration, including membership. We think that the focus should be on reforms, on how to modernize Ukraine. ... To modernize their [Ukraine's] defense and security institutions is the best way also to move towards membership," Stoltenberg said.
op