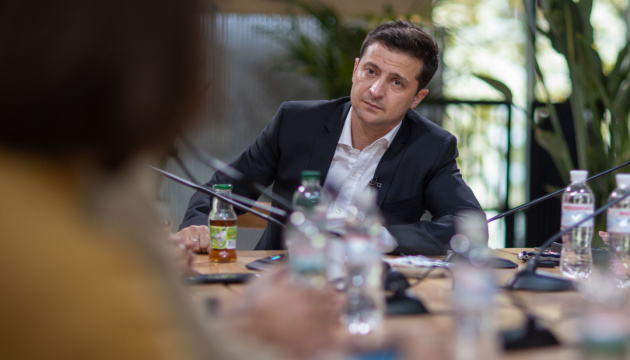 Zelensky vows to dismiss SBU chief if he is advised by ex-military prosecutor
Ukrainian President Volodymyr Zelensky has said that he will dismiss Chief of Ukraine's SBU Security Service Ivan Bakanov if there is evidence that he is being advised by former military prosecutor Anatoliy Matios.
He said this during an all-day "media marathon" in Kyiv on Thursday when asked if he knows that Matios is advising Bakanov.
"If you show me the details that Mr. Matios is advising Ivan Bakanov, the head of the Security Service of Ukraine, I will dismiss Bakanov. If there is evidence, I will dismiss the SBU chief," Zelensky said.
When asked whether the Prosecutor General's Office (PGO) is investigating cases on abuse of office by Matios at the post of Ukraine's military prosecutor, Zelensky said he was ready to help ensure that all the materials collected by journalists about the abuse of office by the former prosecutor were submitted to the PGO.
"As for the criminal cases in which Matios appeared, I don't know the list of all cases, but I can ask the prosecutor general, and if you have evidence and witnesses, I'm ready to assist in this matter so that every action of corrupt officials in Ukraine could be investigated," the president said.
At the same time, he said that the new authorities had already fulfilled the main task by dismissing both Matios and former Prosecutor General Yuriy Lutsenko. "We did more than anyone could do. We fired these people. It was a difficult task, but we fired them," Zelensky said.
op