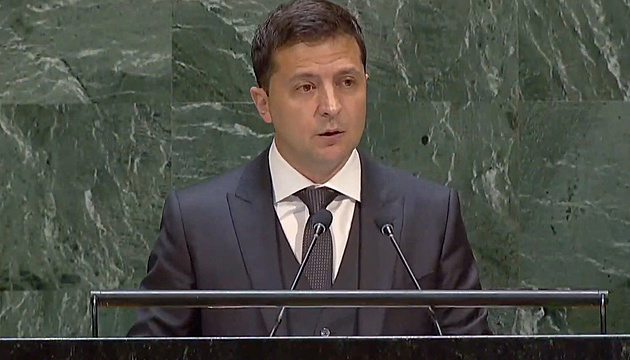 Zelensky at UN: Ukraine gives up nuclear weapons, now losing its territories and thousands of lives
Ukraine gave up one of the greatest nuclear potentials on the planet because it believed in its contribution to building a new world but ultimately has lost part of its territories and thousands of lives of its citizens.
President of Ukraine Volodymyr Zelensky made a corresponding statement while delivering a speech at the UN General Assembly on Wednesday, an Ukrinform correspondent reports.
"Ukraine has always demonstrated its readiness for establishing peace in a civilized way and has taken steps towards international security. For example, when it gave up its nuclear potential, which at that time was larger than that of the UK, France and China all put together," the President of Ukraine emphasized.
According to him, Ukraine believed then "that we are all building a different, new world in which you should not have nuclear weapons for your opinion to be heard and considered, in which you will be respected for your actions, not nuclear warheads."
It turned out that our state has lost part of its territories and is losing its citizens almost daily in this new world, Zelensky emphasized.
He recalled that more than 13,000 people had been killed, 30,000 people had been wounded, and 1.5 million people had been forced to flee their homes during the Russian aggression against Ukraine. "Every year, these dreadful numbers are voiced here with only a small correction: they are increasing every year," the Ukrainian leader underscored.
President of Ukraine Volodymyr Zelensky makes a working visit to the United States on September 23-26 to attend the 74th session of the UN General Assembly.
ol