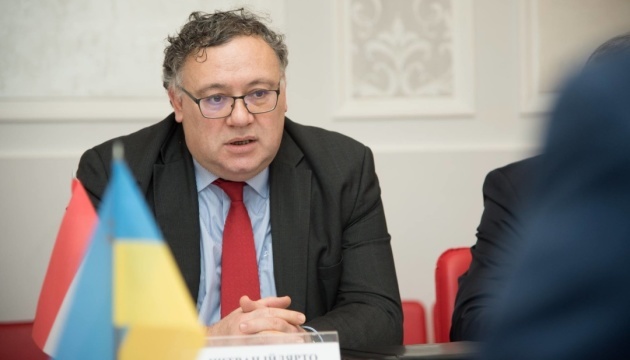 Hungarian ambassador: Blocking of NATO-Ukraine Commission meetings does not hinder integration into Alliance
Ambassador of Hungary to Ukraine István Íjgyártó believes that blocking high-level meetings of the NATO-Ukraine Commission does not hinder Ukraine's preparations for the integration into the North Atlantic Alliance.
"I would like to emphasize a very important point: there is an opinion in the Ukrainian press and in some circles that Hungary blocks the rapprochement of Ukraine with NATO... We block only within the framework of one institution, the so-called NATO-Ukraine Commission... Such behavior of Hungary does not hinder Ukraine's movement towards integration into NATO at the military and political levels," the diplomat said at the opening of international discussion "Ukraine-Hungary: on the way toward understanding", an Ukrinform correspondent reports.
As a reminder, Ukraine-Hungary relations became more complicated after the Verkhovna Rada had passed the law on education. The law expanded the use of the state language in school education. Hungary expressed concern about the future of the Hungarian minority in Ukraine. Budapest blocks the NATO-Ukraine Commission meeting and states it is ready to resist Ukraine's Euro-Atlantic integration until the law is amended.
The NATO-Ukraine Commission was established on July 9, 1997 with a view to elaborating decisions aimed at the development of NATO-Ukraine relations.
In order to ensure the fullest possible development of NATO-Ukraine relations and the implementation of the Charter on a Distinctive Partnership between Ukraine and the North Atlantic Treaty Organization, the parties agreed to hold occasional meetings of the North Atlantic Council with Ukraine, usually at least twice a year, in the format of the NATO-Ukraine Commission.
ol