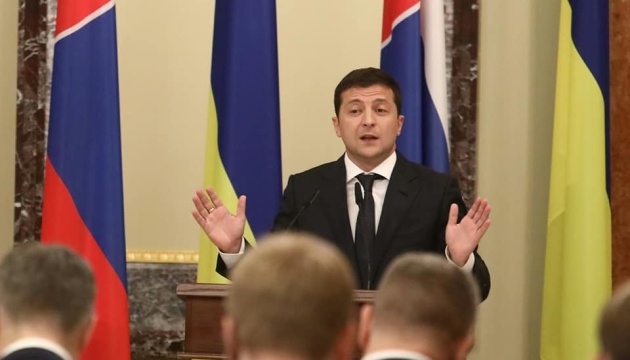 Zelensky names three major issues for Normandy format summit
Ukrainian President Volodymyr Zelensky has said that the participants in a Normandy format summit should resolve three major issues, in particular, a detainee exchange in the "all for all" format, the terms of disengagement of troops and the withdrawal of troops.
He stated this at a joint press conference with Slovak President Zuzana Caputova in Kyiv on Monday, according to an Ukrinform correspondent.
"What steps should be taken there? The main steps are solving, rather than raising the issue of the final exchange of all our prisoners in the 'all for all' format," Zelensky said when asked what he expects from the Normandy format meeting.
The second issue that needs to be resolved at the summit, he said, is the final resolution with clear time frames of the issue of disengagement of troops in Zolote, Petrivske and then along the entire contact line.
"Thirdly, if we are discussing local elections in temporarily occupied territories, we must understand that [we need] clear deadlines for the withdrawal of all troops from temporarily occupied territories before the elections," the president added.
At the same time, he stressed that he did not know whether all the above issues could be resolved at one meeting. Zelensky said he expected further Normandy format meetings to be held "not in three years, but very often," until all issues related to the return of Ukraine's territories and the end of the war have been resolved.
"I expect a normal result to be achieved after this meeting because we will have difficult negotiations. I expect European countries to support the position of Ukraine," Zelensky said.
Zelensky said earlier that there was no specific date for a meeting of the leaders of the Normandy Four countries, but Ukraine insists on holding such a meeting in September.
op