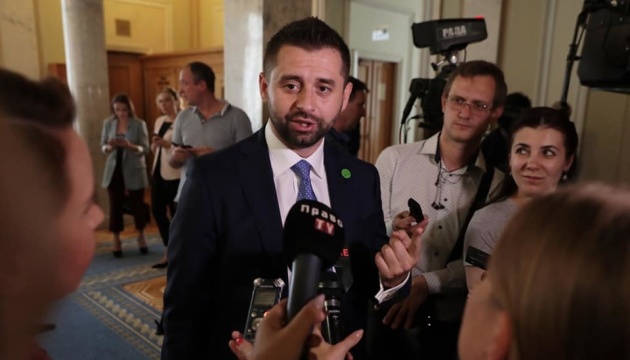 Servant of the People has 35 potential candidates for CEC members - Arakhamia
The faction of the Servant of the People party in Ukraine's parliament already has a list of 35 potential candidates for members of the Central Election Commission (CEC).
The faction's chairman, David Arakhamia, told this to reporters on Friday, according to an Ukrinform correspondent.
"We did not even have an intra-party discussion on whether it was necessary to change the composition of the CEC or not. We realized that sooner or later the CEC would be rebooted. [...] There are now 35 candidates, and we have to make a shortlist so that these people look normal, professional in the eyes of the public, so that they can properly protect the interests of voters," Arakhamia said.
On September 13, the Verkhovna Rada adopted a resolution on the early termination of powers of the entire composition of the Central Election Commission. The resolution enters into force on the day of its adoption.
On September 9, President Volodymyr Zelensky tabled in the Verkhovna Rada a motion for the early termination of powers of members of the Central Election Commission.
He explained his motion by the fact that during the registration of MPs, the CEC allegedly acted in a biased manner and contrary to the principles set by the electoral law. In particular, it was noted that 28 CEC decisions were overturned by the courts.
On September 11, the Verkhovna Rada committee on the organization of state power, local self-government, regional development and urban planning supported the presidential motion.
The Verkhovna Rada approved the current composition of the CEC on September 20, 2018. Until then, the parliament could not agree on the appointment of new CEC members for four years, despite the fact that the term of powers of 12 of the 15 CEC members had expired in June 2014 and of one more member in February 2017.