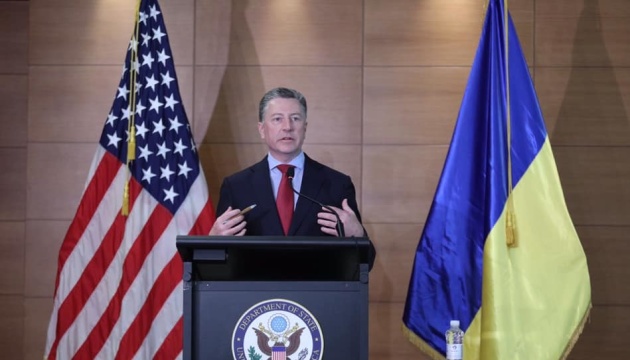 Kurt Volker: No signals of Russia's readiness to release captured Ukrainian sailors
There are no signals that would indicate Russia's readiness to release illegally seized Ukrainian sailors and ships.
"As for the sailors, unfortunately, we do not hear anything from Russia that could indicate its readiness to release them. Russia launched a trial and all the time refers to it instead of just letting them go," U.S. Special Representative for Ukraine Negotiations Kurt Volker said at a briefing in Kyiv, an Ukrinform correspondent reports.
He once again stressed that Ukrainian ships and their crews were attacked and captured illegally in the Kerch Strait, and the sailors are now held in Russia illegally, too. "They must be released unconditionally," Volker said.
As reported, on November 25, 2018, Russian border guards fired on and seized three Ukrainian Navy ships, the Berdyansk, the Nikopol, and the Yani Kapu, heading from Odesa to Mariupol, near the Kerch Strait. In addition, their crewmembers, 24 Ukrainian sailors, were captured. Three of them were wounded.
A Russian-controlled court in the occupied Crimea arrested all the detained Ukrainian sailors on charges of alleged illegal border crossing. They are held in a remand prison in Moscow now.
On May 25, the International Tribunal for the Law of the Sea ordered Russia to immediately release three Ukrainian naval vessels and 24 captured sailors.
On July 9, the Russian prosecutors brought the final charges against all 24 Ukrainian sailors -prisoners of war.
On July 15, Ukrainian sailors were put on of prisoner swap list.
On July 17, Ukrainian Parliament Commissioner for Human Rights Liudmyla Denisova suggested releasing the sailors under her personal guarantee as the Code of Criminal Procedure provides for such an opportunity.
On the same day, the Lefortovsky District Court of Moscow extended the arrest of Ukrainian sailors for three months.
ol