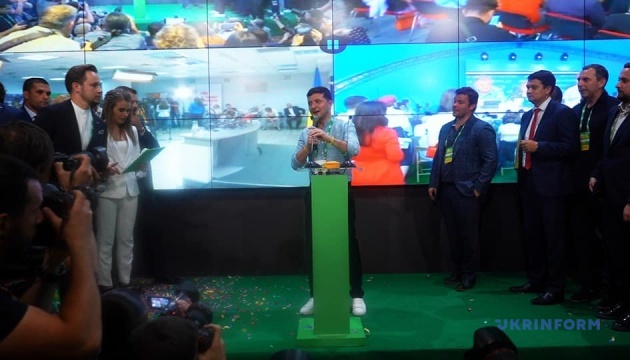 Servant of the People will gladly invite Holos to coalition - Zelensky
The pro-presidential Servant of the People party will invite Ukrainian singer Svyatoslav Vakarchuk's Holos party to form a parliamentary coalition, President Volodymyr Zelensky has said.
"We cannot insist any longer, because we have a bit higher rating than that of Holos, but we invite Mr. Vakarchuk to the conversation with pleasure. A new face," he said at a briefing at the campaign headquarters of the Servant of the People party on Sunday, July 21.
When asked whether Vakarchuk could be nominated for Ukraine's prime minister, the president said that this question should be put to Vakarchuk himself.
"It seems to me that the question about the prime minister - Vakarchuk or not - is a question precisely to Vyacheslav Vakarchuk, because this is a great responsibility, and this should be an economics guru, who […] has never been in politics. We want this person to be independent and powerful, with professional background," Zelensky said.
Voting in Ukraine's early parliamentary elections ended on Sunday, July 21. According to the National Exit Poll conducted as of 18:00, five parties win seats on the Verkhovna Rada, in particular, Servant of the People (43.9% of the vote), Opposition Platform - For Life (11.5%), European Solidarity (8.9%), Batkivshchyna (7.6%) and Holos (6.3%).
op