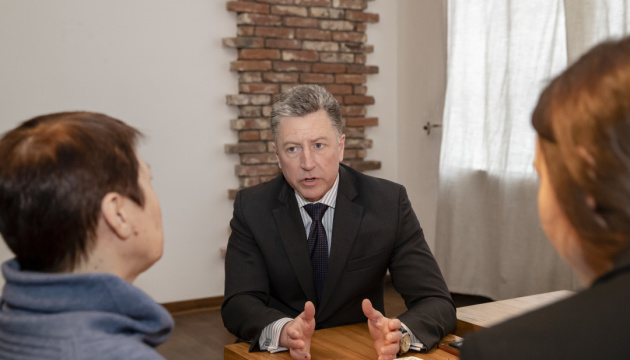 Putin putting pressure on Zelensky before elections – Volker
Russian President Vladimir Putin is using the case of Ukrainian sailors and the issuing of Russian passports in Donbas to exert pressure on Ukrainian President Volodymyr Zelensky before parliamentary elections, but it is not going to work, U.S. Special Representative for Ukraine Negotiations Kurt Volker has told the Ukrainian Service of the Voice of America.
"President Putin, Russia is using the sailors and passport issues in ways to try to put pressure on Zelensky and try, perhaps, to damage his electoral prospects in the coming parliamentary election," Volker said.
Курт Волкер: Продовження арешту морякам — це спроба тиску на Зеленського перед виборами pic.twitter.com/SkwgwlcZYA

— Голоc Амepики (@chastime) 18 липня 2019 р.
At the same time, the U.S. diplomat expressed confidence that this pressure would not work.
"I think the Ukrainian people are very clear about this. They know their choices in the election, how they are going to vote. They also understand that this Russian pressure is not going to defeat Ukraine," he said.
On July 17, Putin simplified the granting of Russian citizenship to Ukrainians living in the entire territory of Donetsk and Luhansk regions, not just to people living in the occupied Donbas.
Ukraine's Presidential Office condemned this step, stating that it creates additional obstacles to the de-escalation of the conflict and the reintegration of Donbas. It also put forward a number of initiatives, in particular the granting of Ukrainian citizenship to ethnic Ukrainians from other countries and those affected by violations of human rights and freedoms in their own states.
On July 17, Moscow's Lefortovo Court extended the arrest of all Ukrainian prisoner of war sailors for three months.
On May 25, 2019, the International Tribunal for the Law of the Sea ruled that Russia must immediately release the seamen and return naval ships to Ukraine.
op