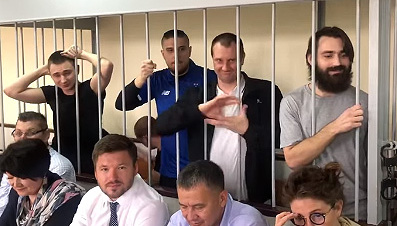 Russia extends arrest of Ukrainian sailors for another three months
Moscow's court has extended the arrest of Ukrainian sailors-prisoners of war for another three months.
"Miracle did not happen. The arrest of military sailors was continued for another three months, until October 24, 2019, ten months in total. So far, the judgment has been delivered to the first group: Mykhailo Vlasiuk, Bohdan Holovash, Denys Hrytsenko, Andriy Drach, Vyacheslav Zinchenko and Serhiy Popov," Ukrainian journalist Roman Tsymbaliuk reported from the courtroom.
According to him, similar judgment will be delivered to all captured sailors.
As the Radio Liberty reports, the arrest of officer of Ukraine's Security Service Vasyl Soroka and six sailors - Andriy Artemenko, Volodymyr Varymez, Vladyslav Kostyshyn, Oleh Melnychuk, Serhiy Chuliba and Viktor Bespalchenko — was also extended for three months.
The court granted the motion of the investigators of Russian Federal Security Service at a closed hearing.
Later, lawyer Nikolai Polozov informed that the Lefortovsky District Court of Moscow extended the arrest of all captured Ukrainian sailors.
"The arrest of 21 Ukrainian sailors was extended until October 24, while the arrest of three wounded sailors was extended until October 26, 2019," he posted on Facebook.
The lawyer noted that the terms of arrest are different because the court hearing on pre-trial restrictions to wounded sailors had been held later than to other prisoners of war.
"None of the lawyers' motions on the attachment of copies of the order of the International Tribunal for the Law of the Sea, requiring the immediate release of Ukrainian sailors, to the case files was granted," Polozov noted.
On November 25, 2018, Russian border guards fired on and seized three Ukrainian Navy ships, the Berdyansk, the Nikopol, and the Yani Kapu, heading from Odesa to Mariupol, near the Kerch Strait. In addition, their crewmembers, 24 Ukrainian sailors, were captured. Three of them were wounded. A Russian-controlled court in the occupied Crimea arrested all the detained Ukrainian sailors on charges of alleged illegal border crossing. They are held in a remand prison in Moscow now.
On May 25, the International Tribunal for the Law of the Sea ordered Russia to immediately release three Ukrainian naval vessels and 24 captured sailors.
ol