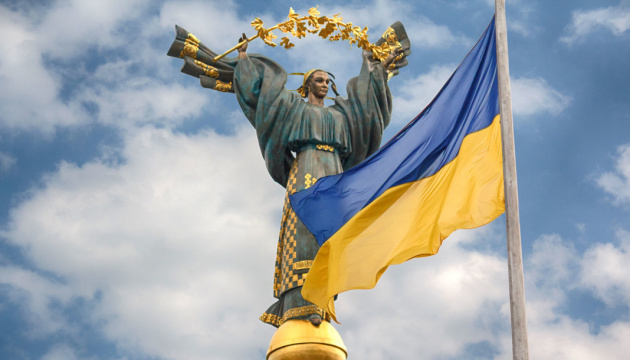 Ukrainian president signs decree on Independence Day celebrations
Ukrainian President Volodymyr Zelensky has signed a decree on marking the 28th anniversary of Ukraine's independence.
The decree to that effect, No. 513/2019, is dated July 11.
In particular, the head of state instructed the Cabinet of Ministers to develop, approve and ensure the implementation of a plan of measures to celebrate the 28th anniversary of Ukraine's independence, as well as ensure the holding of an official ceremony to hoist the state flag of Ukraine.
The government should ensure the holding on August 24, 2019, of solemn events in Kyiv and other cities on the occasion of Ukraine's Independence Day with the participation of representatives of authorities, local self-government bodies, people's deputies of Ukraine, representatives of foreign states, international organizations, the clergy, and the public.
In addition, flower-laying ceremonies should be held in Kyiv and other cities at monuments and memorials, burial grounds for prominent figures of Ukrainian statehood, fighters for Ukraine's independence, deceased members of the Revolution of Dignity, participants in the Joint Forces Operation, the Anti-Terrorist Operation, measures to ensure national security and defense, rebuff and deter Russia's armed aggression in Donetsk and Luhansk regions.
Thematic scientific and practical conferences, round tables, and other educational and patriotic events are also planned.
At the same time, the decree notes that it is necessary to promote the implementation of public initiatives aimed at strengthening national unity, consolidating society in the development of the state, developing interregional ties, disseminating information and knowledge about Ukraine, strengthening its positive image in the world.
The head of state also tasked the Cabinet of Ministers with proposing that religious organizations hold prayers for Ukraine on August 24, 2019.
The Ukrainian Foreign Ministry was instructed to ensure that foreign diplomatic establishments of Ukraine, with the participation of representatives of the Ukrainian community abroad, celebrate Ukraine's State Flag Day and the 28th anniversary of Ukraine's independence.
The Interior Ministry, the security service of Kyiv City State Administration and regional state administrations should take measures within their competence to ensure the order, safety and rights of citizens during the celebrations.
President Zelensky earlier decided not to conduct a military parade on Independence Day.
op