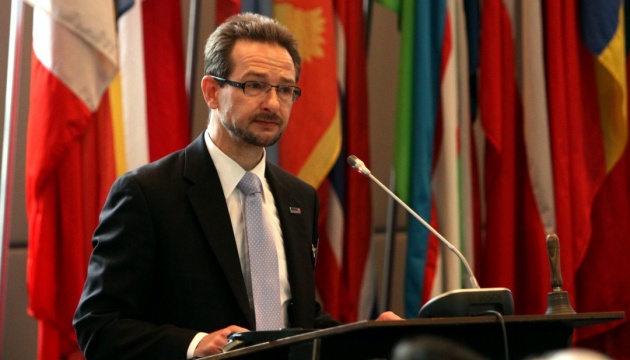 OSCE Secretary General: Peacekeeping mission in Donbas wasn't discussed at ministerial meeting
The deployment of the international peacekeeping mission in eastern Ukraine is not among main talking points within the OSCE, so it was practically not discussed during the organization's ministerial meeting in Slovakia on July 9.
"To be honest, this issue was practically not discussed in the High Tatras," OSCE Secretary General Thomas Greminger said in a commentary to an Ukrinform correspondent in Austria.
At the same time, he added, this fact should not be focused on as it just "demonstrates the current condition of the political process."
According to Greminger, "the restoration of dynamics at the political level" is needed to revitalize the discussion of this issue.
"It should be understood that as soon as we see the restored dynamics at the political level (this also concerns Volker - Surkov dialogue), as soon as this dynamic reappears at these levels, the discussion of this peacekeeping operation will be resumed," the OSCE Secretary General said.
As reported, the Russian aggression against Ukraine was one of the main topics at the OSCE informal ministerial gathering in Slovakia's High Tatras on July 9.
ol