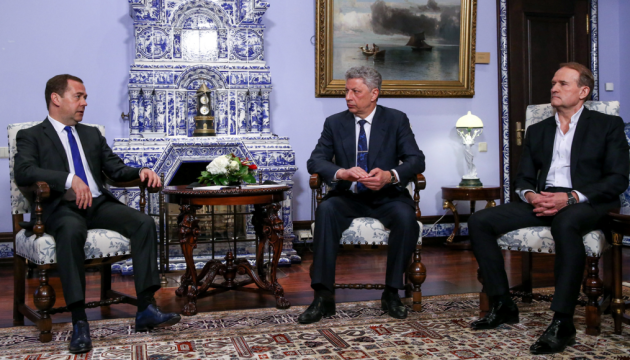 Medvedchuk, Boiko hold another round of 'talks' with Medvedev in Moscow
Viktor Medvedchuk, the head of the political council of the Opposition Platform - For Life party, and Ukrainian MP Yuriy Boiko, the chairman of the party, have again visited Moscow to meet with Russian Prime Minister Dmitry Medvedev, according to Russian news agency TASS.
"We are ready to talk about any topics, given the recent lack of communication," Medvedev said on Wednesday, July 10.
According to him, a preliminary meeting with Medvedchuk and Boiko during the presidential election campaign in Ukraine was "very productive."
"It seems to me that we have discussed issues that are important to Russia, Ukraine and a large number of people, including the restoration of normal economic cooperation, a comprehensive humanitarian dialogue and a whole range of urgent tasks. Not to mention such major issues as peace and the settlement of current problems in your country," Medvedev said.
According to the report, the meeting was attended by Russia's envoy to the Trilateral Contact Group Boris Gryzlov, First Deputy Chairman of the State Duma Alexander Zhukov, as well as a member of the Presidium of the General Council of the United Russia party, Sergei Neverov.
In addition, the meeting was attended by Ukrainian MPs Vadym Rabinovych and Taras Kozak.
Boiko and Medvedchuk traveled to Russia on March 22 and June 7, where they met with Medvedev and Gazprom CEO Alexei Miller.
Ukraine's SBU Security Service opened criminal proceedings under Articles 110 (encroachment on territorial integrity) and 111 (high treason) of the Criminal Code of Ukraine to investigate the circumstances of the visit to Moscow by Medvedchuk and Boiko.
op