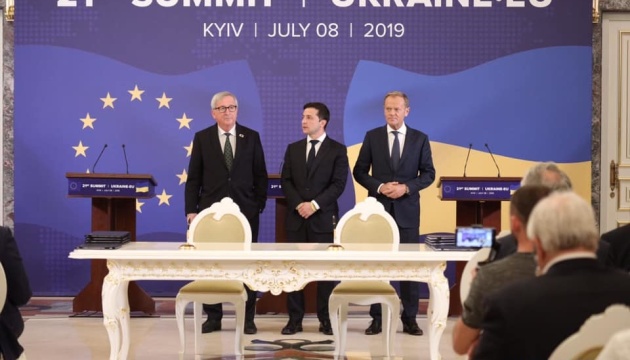 Ukraine, EU call for enhancing talks on Donbas conflict settlement
Ukraine and the European Union have emphasized the importance of enhancing the negotiation process on the peaceful resolution of the conflict in Donbas in view of the full implementation the Minsk Agreements by all sides, according to a joint statement issued after the 21st EU-Ukraine Summit on July 8.
"We reaffirmed our full support to the endeavors of the Normandy format, the OSCE, including the work of the OSCE Special Monitoring Mission to Ukraine, and the Trilateral Contact Group. We stressed the importance of enhancing negotiating efforts aimed at the sustainable and peaceful resolution of the conflict in view of the full implementation of the Minsk agreements by all sides and of measures aimed at rebuilding confidence while underlining the responsibility of the Russian Federation in this regard," reads the document, which was published on the website of the Ukrainian Foreign Ministry on July 8.
According to the statement, the EU recently renewed its economic sanctions on Russia, whose duration remains clearly linked to the full implementation of the Minsk agreements.
The summit participants also said that July 17 would mark five years since the tragic downing of flight MH17, which claimed the lives of 298 victims. They looked forward to the effective prosecution of those responsible for this tragedy and called on Russia to accept its responsibility and to cooperate fully with all efforts to establish accountability.
"In this context, the EU and Ukraine welcome the announcement by the Joint Investigation Team on 19 June 2019 that criminal charges will be brought in the Netherlands against four individuals, call on Russia to cooperate fully with the ongoing investigation, and express their full confidence in the independence and professionalism of the legal procedures that lie ahead," the joint statement reads.
Malaysia Airlines flight MH17, en route from Amsterdam to Kuala Lumpur, was shot down over Donbas on July 17, 2014. There were 283 passengers and 15 crewmembers on board the plane. All of them died.
In September 2016, the Joint Investigation Team (JIT) said it had been established on the basis of irrefutable evidence that the plane had been shot down by a 9M38 Buk missile launched from the territory controlled by pro-Russian militants in the eastern part of Ukraine. In addition, the JIT said on May 24 that the Buk missile system from which the aircraft was downed belongs to the 53rd Anti-Aircraft Missile Brigade of the Russian Armed Forces stationed in Kursk.
In May 2018, the Netherlands and Australia officially stated that they hold the Russian state legally responsible for the downing of MH17.
On June 19 this year, the JIT officially named four individuals involved in the downing of the Boeing 777.
op