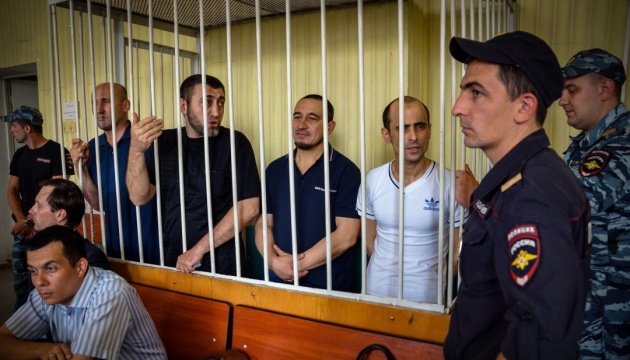 Ukraine, United States at OSCE condemn sentences to Crimean Tatars in Hizb ut-Tahrir case
The permanent missions of Ukraine and the United States to the OSCE condemned the Russian court's convictions of five Crimean Tatars for allegedly belonging to the Hizb-ut-Tahrir organization, which is not banned in Ukraine.
The official statements were made at the OSCE Permanent Council meeting in Vienna on Thursday, an Ukrinform correspondent reports.
"Last Tuesday, June 18, a Russian court in Rostov-on-Don illegally sentenced five Crimean Tatars to 12-17 years in prison on trumped-up charges of allegedly belonging to the Hizb-ut-Tahrir organization, which is legal in Ukraine but was banned by the Russian occupation authorities in Crimea. Ukraine expresses its strong protest over this ruling, which is another case of the application of anti-terrorism legislation to conceal political repression against the Crimean Tatar people," said Permanent Representative of Ukraine to the International Organizations in Vienna Ihor Prokopchuk.
The diplomat stressed that the persecutions on the occupied peninsula must stop immediately and Russia must release all illegally detained Ukrainians and Crimean Tatars.
Acting Deputy Chief of the U.S. Mission to OSCE Gregory Macris noted that "in Crimea, Russian occupation authorities target ethnic Ukrainians and Crimean Tatars for harassment, detention, and imprisonment."
"We are troubled by the news that on June 18, a court in Russia sentenced five Crimean Tatars to between 12 and 17 years in prison for belonging to the Islamic organization "Hizb-ut-Tahrir." This organization is legal in Ukraine, of which Crimea remains a part. We call upon Russia to end its campaign of abuse in Crimea, to release all those whom it has wrongfully imprisoned, and return control of Crimea to Ukraine," he stressed.
As reported, the North-Caucasian District Military Court in Russian city of Rostov-on-Don found guilty the defendants in the first Simferopol "Hizb ut-Tahrir" case in organizing or participating in the activities of a terrorist organization.
Teymur Abdullayev was sentenced to 17 years in maximum security penal colony, Uzeyir Abdullayev - to 13 years, Rustem Ismaiylov - to 14 years, Aider Saledinov and Emil Dzhemadenov - to 12 years.
On October 12, 2016, Russian security officers conducted searches in the houses of five families in Crimea. As a result, five Crimean Tatars were detained on charges of participation in the Hizb ut-Tahrir religious organization banned in Russia and occupied Crimea.
On December 6, 2018, the detainees were transferred to a remand prison in Rostov-on-Don.
ol