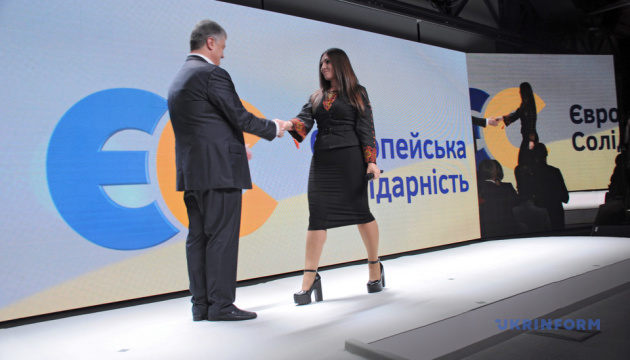 Poroshenko's party names top 50 candidates running for parliament
The European Solidarity party has named top 50 MP candidates running on its election list in Ukraine's snap parliamentary elections on July 21, 2019.
The list was unveiled at a briefing on Thursday by Ukrainian singer and TV presenter Sofiya Fedyna, who is among top ten candidates, according to an Ukrinform correspondent.
"Thus, the first 50 of the list of the European Solidarity party includes Petro Poroshenko, Andriy Parubiy, Iryna Gerashchenko, Mykhailo Zabrodsky, Sofiya Fedyna, Mustafa Dzhemilev, Yana Zinkevych, Akhtem Chiygoz, Oleh Syniutka, Ivanna Klympush-Tsintsadze," Fedyna said, announcing the top ten.
Next on the list are Artur Herasymov, Stepan Kubiv, Iryna Friz, Nina Yuzhanina, Iryna Lutsenko, Viktoria Siumar, Volodymyr Ariev, Rostyslav Pavlenko, Mykola Velychkovych, Serhiy Alekseyev, Ruslan Kniazevych, Maksym Savrasov, Maria Ionova, Natalia Boiko, Volodymyr Viatrovych, Iryna Nykoriak, Tetiana Chornovil, Denys Piatyhorets, Andriy Levus, Natalia Balasynovych, Andriy Karpov, Yuriy Biriukov, Serhiy Taran, Oleksandr Chernenko, Andriy Andreyev, Dinara Gabibulaeva, Oleksiy Petrov, Viacheslav Kyrylenko, Pavlo Rozenko, Volodymyr Solar, Ihor Artiushenko, Mykhailo Talpa, Oleksandr Pohrebytsky, Serhiy Vysotsky, Oleksandr Bryhynets, Olena Ursulenko, Andriy Smoliy, Oleh Boldyrev, Ihor Lapin, and Liudmyla Obertynska.
At the same time, Fedyna noted that about half of the people on this list have never worked in the Verkhovna Rada.
"These are new faces in the political system, but at the same time, these people are already well-known in their environments and have been working for many years for the Ukrainian people, for the Ukrainian state," she said.
Fedyna said that European Solidarity is actively implementing the practice of European parties - the presence of more than 30% of women on the election list.
op