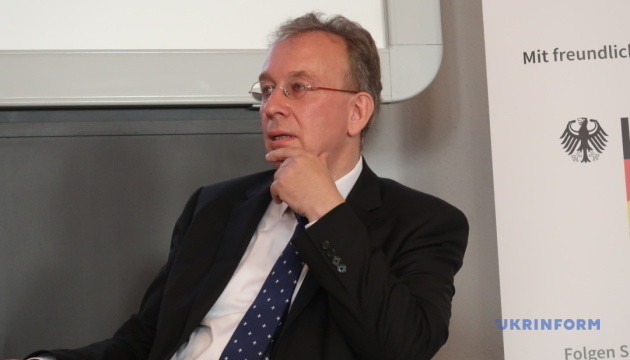 Berlin considers it premature to talk about lifting of sanctions against Russia
The German diplomats see no reasons to begin discussions on the lifting of sanctions against the Russian Federation.
Head of the Ukraine Task Force at the German Foreign Office Andreas Prothmann said this at the conference "Ukraine in the Election Year 2019" organized by the Institute for European Policy in Berlin on Tuesday, an Ukrinform correspondent reported.
"We are not interested in opening a discussion on the lifting of sanctions. We should support both the "Crimean sanctions" and those relating to the conflict in eastern Ukraine [imposed because of the aggressive actions of the Russian Federation in Donbas]. I don't think that we now need a discussion on the lifting of sanctions," he said.
He noted the official position of Berlin – sanctions related to the situation in eastern Ukraine can be lifted only after the implementation of the Minsk agreements, but "unfortunately, we are not at that stage". As for the Crimean sanctions, the "annexation cannot be forgotten," and it is necessary to draw attention to this issue, to the problem of human rights in Crimea, etc.
As Ukrinform reported, the EU ambassadors on June 12 decided to extend the bloc's investment ban on Crimea by another year.
The EU Council on June 20 will officially extend economic sanctions against Russia for a further six months.
As known, the European Union in July 2014 introduced economic sanctions against Russia for the illegal annexation of Crimea and actions destabilizing the situation in eastern Ukraine. The sanctions were strengthened in September 2014.
In March 2015, the European Council linked the effect of restrictive measures with Russia's failure to comply with the Minsk agreements. Since then, the EU has been considering the extension of economic sanctions against Russia every six months.
ish